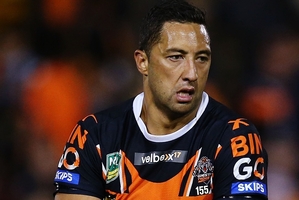 As they do online, some bloke put his house on Benji Marshall being an All Black next season.
It provoked some wanting to take on the wager, others asking for the square-metre size of the abode and the comics suggesting it would be a better investment to dump the loot on Parramatta winning the NRL.
Whatever the results, the deal will be done tomorrow and Marshall will sign on for a two-season stint with the Blues and Super 15 action.
The Blues have their reasons: they must think Marshall has a playing upside the senior coaching group can develop, while they will be thinking his promotional thump will persuade more fans through the gates to help recoup their investment.
They will also be banking that Marshall's attitude and approach, after more than a decade in pro league in Sydney, will assist his development and be a beacon for the Blues as well.
Fullback, wing or five-eighths - the Blues will have a rough idea where they think Marshall will fit into their backline and will give him every chance to gear up for his new code.
Had Beauden Barrett signed on as well, the promise would have been much greater for the Blues, while a couple of tough, reliable locks would go some way towards easing some of the tight-five concerns next season.
So far those other searches have drawn a blank. Marshall has been the only one to sign on for work in 2014.
"What do ya reckon," is a natural inquiry, but how can we answer? He's been in and out of my vision playing for the Tigers and Kiwis where his skill range and impact have followed an arc.
He is a playmaker, the bloke who gets the Steeden and directs plays or runs across the park, throwing dummies, whistling runners inside him, sniping at a gap or throwing a cut-out pass to a comrade in space.
It looks a little like the days of Carlos Spencer at the Blues or perhaps Quade Cooperesque. Think back to the recent Lions tour in which Cooper used all his rabbit-from-the hat routines when he turned out for the Reds against the Lions.
Entertaining, good value, productive? Yep, yep and sometimes. For all the illusionary wizardry, the Reds came second. But the crowd loved the occasion.
Some believe the pace in league has slowed since Marshall began his Tigers career and they claim the standoff has decelerated, too, as league has become even more formulaic in its patterns.
They claim that pattern has shut down the entertainers, although Todd Carney, Johnathan Thurston, Shaun Johnson and John Sutton still do that sort of business.
Until we watch Marshall have a crack at rugby, only those who remember him at under 15 age-group level for New Zealand, will have any empirical knowledge of his work.
Sonny Bill Williams cracked it but it took him a number of seasons. He played a different role and was much younger and more robust. Mat Rogers had it sorted sometimes and so, too, Berrick Barnes.
Other recent high-profile converts like Shontayne Hape, Israel Folau, Wendell Sailor, Timana Tahu and Lote Tuqiri have all favoured the outside lanes in rugby and for now Marshall inhabits the mystery zone.