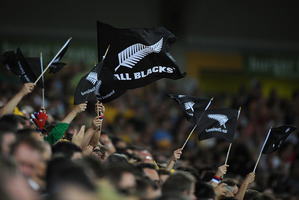 Let's embrace the concept of losing All Black tests. We don't have to like the idea but we should consider the possibility and not get so het up about winning every international.
It's not a view I would have entertained in any measure before rugby became professional and the World Cups gained even more status as the primary target for every nation.
The sport has altered to such an extent in its administration, laws and ideas that it might be time for traditional old New Zealand to rework some of its sacrosanct ideas.
The All Blacks are being set for an international in Japan later this year as a way of introducing fringe test players to the week-long pressures of that environment.
It was a test, the NZRU explained, where they could compete without the normal pressures surrounding a tier-one contest.
The explanations were going all right until then. What is the point of giving the "dirt-trackers" that sort of experience even with a long-term view towards the 2015 World Cup?
Give them the real thing. Pitch them in against France, throw them into the Rugby Championship, accept the All Blacks may take a hit but will learn a lot more from those games than buzzing around against Japan.
Select some of the younger but unproven talent to start and find out how they stand up to the mental squeeze, the public scrutiny and the playing demands of test rugby.
Watch their reactions to pressure, see how the strain sits with them in front of 55,000 spectators rather than a 20,000 crowd, out of the spotlight in the Land of the Rising Sun.
If the All Black selectors want to find out how some of the talent stream stack up as 2015 contenders, pitch them into a real test environment rather than a fairy-floss walkover in Tokyo.
Players know they will win that match. That does little for their psyche; it just adds another percentage on the All Black success mark in a marketing gig for sponsors.
As rugby followers, I'm sure we would prefer to see some new players used judiciously against France, the Springboks, Wallabies and Pumas than a clutch taken to Japan for that exercise.
In that way, some of the more fatigued senior players like Conrad Smith can be spelled at well-judged times throughout the year.
If the process were explained properly, it would have a chance of success. It would need a big change in our thinking but the long-term benefits would be the real victory.