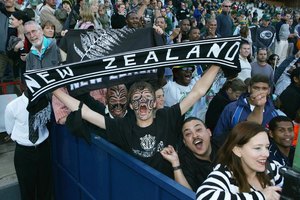 My ear caught the tail end of the sports news. Goodness knows what had been wrong with my hearing before that.
But the words jarred, they were not right.
The All Black sevens had won another global crown under the guidance of the masterful Gordon Tietjens.
Fantastic, superb effort and let's hope they can get some gold at Rio.
But NOT as the All Black sevens team.
The rebranding which took place last year, and which did not sit comfortably with me then, for some reason sounded far worse this time.
At the time, chief executive Steve Tew said the definition of an All Black would not alter - the only way to qualify was to play for the senior 15-a-side team.
However, people offshore recognised all New Zealand sides wearing the black jersey as the All Blacks.
Does that mean the Fairfield United third grade team wearing black should be recognised as the All Black United?
Down the years we have become used to the Maori All Blacks and Junior All Blacks even though the NZ Maori and NZ Junior teams seem more sensible descriptions.
Does the NZRU expect sides to travel away as the All Black University team, the All Black Heartland XV, the All Black secondary schools side, the All Black Ferns and so on?
If it's good enough for the sevens why not all these?
The sevens have collected the moniker because they are playing annually on a global circuit and it will be a great marketing weapon at the next Olympics.
It is another way of boosting the coffers and repaying those such as AIG who have invested in rugby in New Zealand. Their outlay has been a huge boost but you wonder if it came with some branding clauses.
It grates when overseas commentators describe sides as the All Blacks when they might be NZA or the Divisional team.
The NZRU's argument for the broadening use of the All Blacks has elements of international branding and trademark protection.
It seems a bit more cynical than that and you wonder if the Olympic movement would have been interested in a sevens mob who were not the All Blacks.
After all, the All Blacks are an extraordinarily successful sports team who carry a remarkable winning percentage and a glittering history. They are World Cup winners again.
But who did that?
The sevens, the juniors, the Maori side?