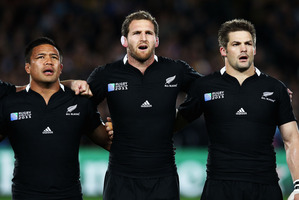 Asking the All Blacks to remember Rustenburg will bypass all of them except Daniel Carter, Richie McCaw, Tony Woodcock and Andrew Hore who played there six years ago.
That group might be enough in any ordinary contest but the All Blacks will need a much broader motivation and intent when they suit up tomorrow for their final Rugby Championship test against South Africa.
Rustenburg is a city in the country's northwest, a place where the All Blacks came to grief in 2006, after rampaging through eight previous tests and collecting the Bledisloe Cup and Tri-Nations titles.
The tourists stayed in nearby Sun City where some of the resort's casual atmosphere seeped into the squad's psyche as they delivered a stuttering display.
Tomorrow the All Blacks are heading into their ninth test this season with the Bledisloe and inaugural Rugby Championship trophies stashed in their kitbags.
This time they are staying near the Soccer City venue for their duel with the Boks and, so they tell us, have their minds right on the job as part of a mission to create a new world record-winning sequence.
Men like Kieran Read who set the tone for this side have spoken about their ambitions and their take on this international.
The All Blacks never played a test without consequences.
This was a different kind of hurdle, a test away from home against a very strong side intent on sorting out the glitches which unstitched their search for victory at the Dunedin Stadium.
Let's be very clear. The only decent opposition, the only side with the all-round clout to shake the All Blacks this season, have been the Springboks. Ireland, the Wallabies and Pumas have had their moments but this year for a raft of reasons they are not in the same league.
The Boks are a different case. They have an approach to international rugby which suits their psyche and has done for many decades.
They have not shifted far from a plan to smash their rivals up front and nail the advantage with an array of gifted kicking five eighths or opportunist wings.
It is an effective strategy and when in tune is mighty difficult to counter.
When Bok forwards sniff any visiting inattention to duty, they will ramp up their venom even further.
Mark tomorrow as one of those occasions, a test where the atmosphere will be fiery and the contest more intense than the All Blacks have endured this year.
They know all that detail and will be intent on keeping their winning sequence.
That determination does not always translate into the desired result, there are many factors - such as referee Alain Rolland - which come into play.
So for this set of eyes, this contest located near the smoky townships of Soweto will be the crunch game of the All Blacks season.