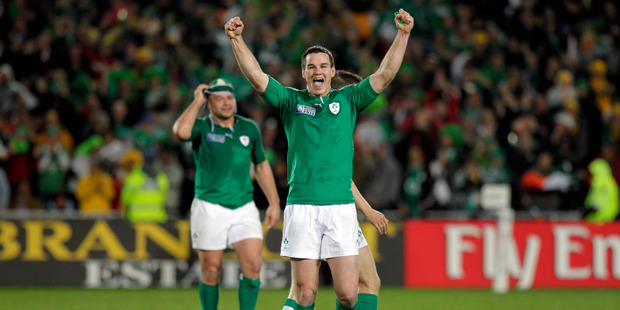 There is no doubt for Irish first five-eighths Jonathan Sexton.
Ask him about progress in his game and he fingers the input from his Leinster coach Joe Schmidt, the New Zealander in charge of the champion Irish side.
"It's everything about him, his manner, how much he knows, the detail and analysing the opposition and preparing you. He does everything with a smile on his face," Sexton said.
He admired Schmidt's consistent demeanour, which was not always a dominant feature of rugby coaches.
"It's not surprising they want him back here," he said.
Schmidt had been a huge weapon for Leinster in the past few years and his attention to detail and homework on the opposition made it so much easier for the players. The province's previous coach Michael Cheka and Irish coach Declan Kidney had also been massive influences on his rugby.
That career had involved 27 caps as Sexton tried to move up to regular work while Ireland, at the same time, tried to wean themselves away from relying on Ronan O'Gara and his 121 caps.
Sexton refused to compare his game with that of the 35-year-old O'Gara but would be picking as much as he could from the veteran's game and his knowledge of New Zealand rugby for tomorrow's test.
He would also try to absorb some of Daniel Carter's game and it would be a treat to test himself against the best.
"Dan Carter is the No 1 outhalf in the world playing in the No 1 team and he has some great players around him and it looks like he is in an armchair at times," he said.
Ireland had picked a backline with an attacking intent.
"It is a bit of an experiment this week and we hope we get the right reward," he said.
It had been a long season for Ireland including two trips to New Zealand, but they had been well managed and were fresh enough to tackle the last three tough assignments with the All Blacks.
"There are two ways of looking at this - you are closer to your holidays or it's a massive chance for us to do something that no Irish side has done before and come down here and put in a good performance."
They had a few injuries but skipper Brian O'Driscoll was back after injury and they had some good young men alongside him.
Ireland were walloped 66-28 in their visit in 2010 but were a man down early after Jamie Heaslip was sent off for kneeing Richie McCaw in the head. This time they had to start strongly and stay in the game. It would be futile chasing the test against the All Blacks.