Women who say they were sexually harassed or mistreated by powerful men in US television news have formed a support network aimed at changing a newsroom culture they say has given men a free pass to misbehave for decades.
The women behind the Press Forward initiative say they want a zero-tolerance policy for sexual misconduct at networks, better awareness of legal rights for women coming into the industry and more accountability for executives.
"Women should not have to go to work and worry that something like this is going to happen to them," said Eleanor McManus, who said she was a 21-year-old job seeker when then-ABC News political reporter Mark Halperin tried to kiss her during a meeting in his office.
"Women should not worry that mentors may act in an aggressive manner towards them," she said. "That's not fair."
Press Forward has evolved over the past two months after McManus and other women went public with allegations against Halperin, CBS and PBS host Charlie Rose, NBC's Today show host Matt Lauer and others.
Halperin has said he is "profoundly sorry for the pain and anguish" he has caused and, in reading the women's accounts, recognised "conduct for which I feel profound guilt and responsibility".
Rose and Lauer have also offered apologies, while saying some the allegations are untrue. All have been fired.
This was the second wave of an industry-wide reckoning that began at Fox News with the removal last year of Fox News chief Roger Ailes and the dismissal in April of the network's star host Bill O'Reilly.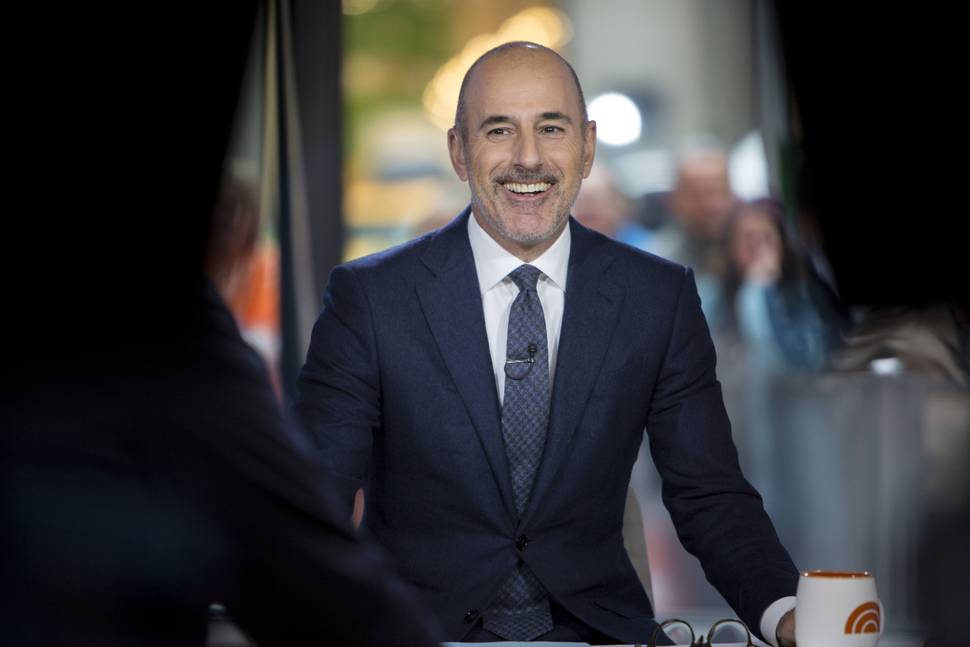 The most recent revelations came as many Hollywood and other media executives have faced allegations.
At first, McManus and a small group shared stories and hugs over drinks. They kept in touch via text messages and private Facebook groups, including one called "The Silver Lining".
Now they have reached out to other women with shared experiences to build a growing coalition.
"Nobody here is wallowing in their pain and anger," said Dianna Goldberg May, a former ABC News researcher who said Halperin demanded she close the door and sit on his lap in his office in the mid-1990s when she was 23.
"We are doing something to effect positive change in the workplace."
The group's first mission: figuring out what's needed to make the television news business more equitable and effective. The women say they'll spend the next six months talking with everyone from interns to executives and designing best practices that tear down the status quo.
After Lauer's firing, NBC initiated a review of its handling of the matter and implemented training on sexual harassment awareness and appropriate behaviour in the workplace.
McManus said some of the networks had already expressed an interest in working with Press Forward.
"There are many reasons to have an industry-wide conversation about how we're doing and how we're living up to our norms," said McManus, a co-founder of the Washington public relations firm Trident DMG .
"This is, perhaps, the most pressing because this is about the shameful power imbalance that has been in place too long."
They already have plenty of ideas.
May, now a lawyer, wants Congress to consider changing federal law so sexual harassment victims have more time to file a complaint. Currently, they have up to 300 days.
McManus wants newsrooms to evolve so women at all levels are not afraid to report wrongdoing by a top anchor or producer.
"We stayed silent because we thought we were the only ones," said McManus. "We didn't think that this happened to others, and that's why we stayed silent so long. The cult of silence is finally broken."
Emily Miller tweeted that Halperin sexually assaulted her while she was a researcher at ABC News. Halperin has denied assaulting Miller.
Lara Setrakian was 24 when she says Halperin kissed and touched her while they talked politics in his office.
Both women said they learned later that some people at the network had been aware of Halperin's behaviour, but that it didn't stop. Setrakian said Halperin's treatment of young women was an "open secret" in some circles.
"There's clearly a problem here," said Setrakian, now the chief executive of the digital media outlet News Deeply. "They should be launching rigorous investigations on how to fix the problem."
Changing the culture of television news so men and women are on equal footing — with the same opportunities for advancement — is vital to ensuring its future, according to Setrakian. She said that meant not only eliminating the sexual misconduct that had caused scores of women to leave the industry but getting rid of double standards that judge women on their appearance.