While the motives of the Champs-Elysées gunman remained unconfirmed, the timing just three days before the first round of presidential elections and during a prime time TV "debate" between all 11 official candidates clearly raises the question that extremists are seeking to influence the tone of the debate.
Already in a state of emergency, France's security apparatus has been on maximum alert in recent days. Intelligence agents have been in a race against time to shut down clear and present threats to the personal security of several of the main candidates, reportedly most prominent among them François Fillon, the conservative candidate.
Two men were arrested in Marseille on Tuesday with guns and bomb materials, and were in the final stages of preparing "several" attacks, according to French reports.
The arrests coincided with a toughening of the discourse of Marine Le Pen, the far-Right Front National candidate, who gave her hardest-line speeches of the campaign in Paris on Monday and then again in Marseille on Wednesday night. In those she insisted that the past two administrations, both Left and Right, had failed to take the Islamist threat seriously.
The Paris terror attacks, she said, would not have occurred had she been in power as several of the assailants who killed 130 took the migrant route to enter the country illegally. She threatened to effectively shut French borders, promising to draft in army reservists to do so, placing a temporary "moratorium" on legal immigration and then only allowing 10,000 in a year after that.
Although polls suggest Ms Le Pen is on track to come in the top two of Sunday's first-round vote, along with centrist Emmanuel Macron, political analysts have suggested that Ms Le Pen has been losing steam in recent days and that her campaign has failed to capitalise on early leads.
Critics have sought to portray Macron as a soft touch. To rectify this, he held one of his final campaign rallies in Nantes, western France, on Wednesday night in the presence of Jean-Yves Le Drian, the highly respected Defence Minister.
A former head of the RAID, France's elite anti-terror unit and in charge of operations during the Paris attacks, has also come out in support of Mr Macron this week, boosting his security credentials in the final stages.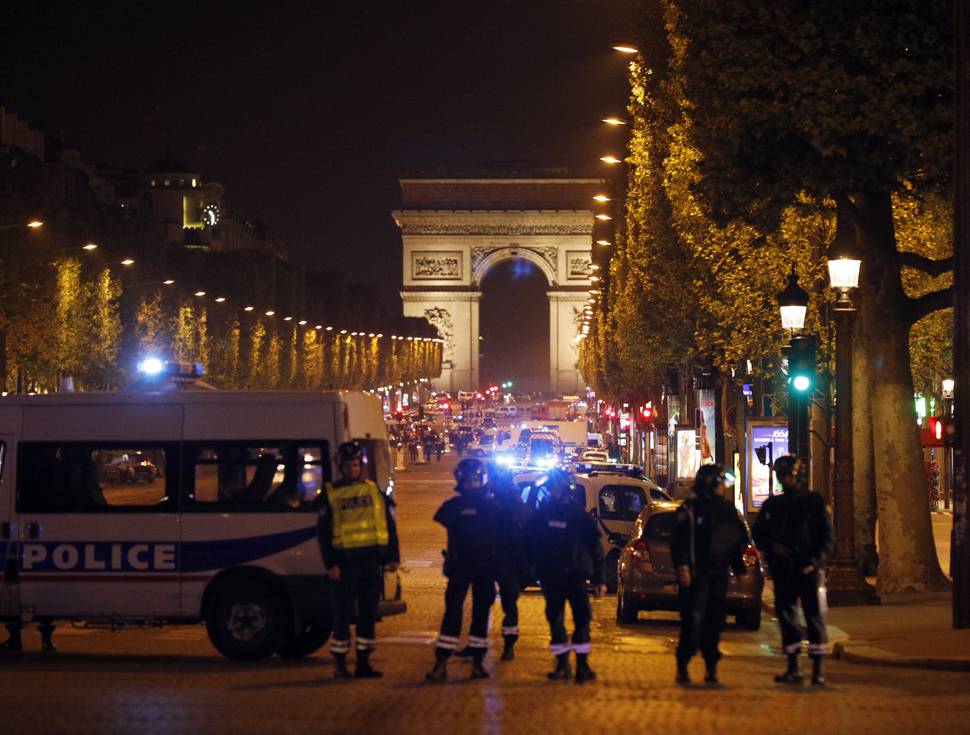 Mr Macron was among the first candidates to react to the attack during last night's TV show, offering condolences to the slain policeman's family and warning that the terror threat would "be with us for years to come".
Mr Fillon, who was prime minister under Nicolas Sarkozy, has been seeking to convince wavering voters that he is the safest pair of hands despite being embroiled in a corruption scandal.
After the Marseille arrests, he said he hoped that the political debate would not narrow to security, so that he could finally outline his reformist programme. He may now change his tune after this attack.