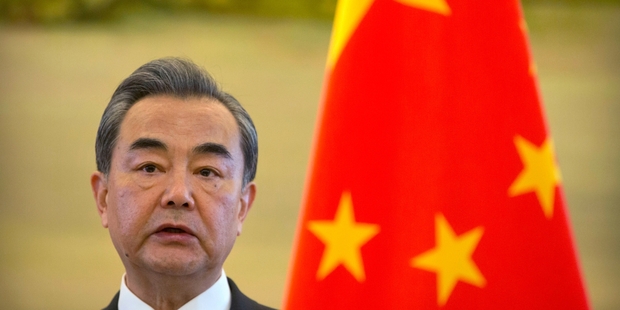 There can be no winners in a war between the US and North Korea over Pyongyang's nuclear weapons and missile programmes, said Chinese Foreign Minister Wang Yi, while pledging support for dialogue between the sides.
Wang's comments mark the latest attempt to cool tensions by North Korea's most important ally and key provider of food and fuel aid.
Any fighting on the Korean Peninsula is likely to draw in China, which has repeatedly expressed concerns about a wave of refugees and the possible presence of US and South Korean troops on its border.
China also has grown increasingly frustrated with the refusal of Kim Jong-un's regime to heed its admonitions, and in February cut off imports of North Korean coal that provide Pyongyang with a crucial source of foreign currency.
State media reported that starting Monday, the Chinese flag carrier Air China will cancel flights from Beijing to Pyongyang due to poor ticket sales.
Air China and North Korea's Air Koryo are the only two airlines serving that route, with the latter operating on Mondays, Wednesdays and Fridays.
"Once a war really happens, the result will be nothing but multiple loss. No one can become a winner," said Wang. "Therefore, we call upon all the parties, no matter verbally or in action, to stop provoking and threatening each other and not to allow the situation to become irretrievable and out of control," Wang said.
Wang last month urged North Korea to suspend its nuclear weapon and missile tests in exchange for South Korea and the US putting their war games on hold, reviving a proposal first raised by Pyongyang.
Washington swiftly dismissed the idea, but some observers have said administration officials may be becoming more amenable to renewed dialogue with the North.
Earlier North Korea's vice foreign minister Han Song Ryol said his country would keep building up its nuclear arsenal in "quality and quantity" and said Pyongyang was ready to go to war if that's what President Donald Trump wants.
Chinese experts said they see little immediate possibility of hostilities breaking out, but warned that Beijing will respond harshly to any further North Korean nuclear tests.
Director of Jilin University's Institute of Northeast Asian Studies Guo Rui said another nuclear test would invite tougher measures from Beijing.
Pang Zhongying of the School of International Studies at Beijing's Renmin University said another North Korean nuclear test would mark "the crossing of a red line" that China would respond to. AP