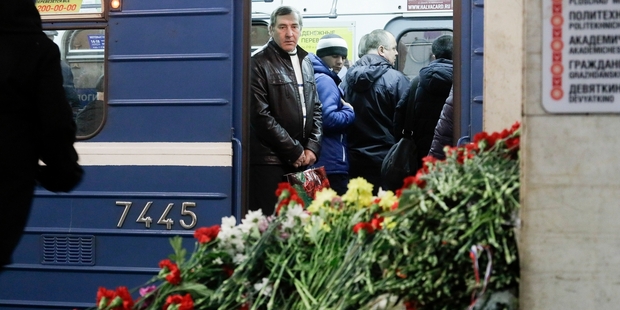 The parents of the man Russian police believe was behind Tuesday's suicide attack that killed 14 people on a St Petersburg underground train arrived in the city yesterday for questioning.
Meanwhile, the station that was the scene of carnage and chaos the day before was yesterday brightened by flower tributes to the dead.
The suspect, Akbardzhon Dhzalilov, 22, is believed to have moved to St Petersburg from the Central Asian nation of Kyrgyzstan when he was a teenager.
State-owned Rossiya 24 television yesterday showed footage of a middle-aged woman in a red coat and a white headscarf and a man in a black jacket, believed to be his parents, being chased by journalists.
Police say CCTV footage from outside Dzhalilov's home shows him leaving his home on the day of the attack with a bag and a backpack.