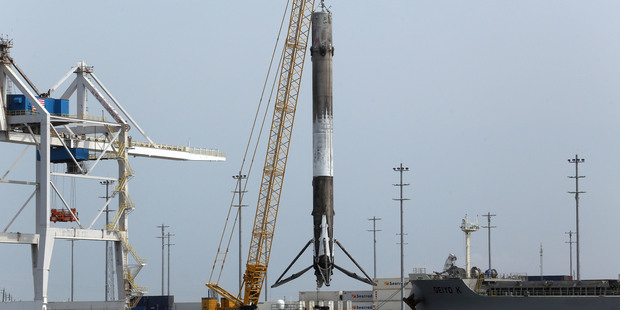 SpaceX's first reused rocket is back in port, five days after launching a satellite.
The singed 15-storey booster returned atop a barge to Florida's Port Canaveral today.
It was the second flight for the Falcon 9's first-stage core - and a first for SpaceX.
Both times, the leftover booster landed upright on an ocean platform following liftoff.
SpaceX founder and chief executive Elon Musk has championed recycling rockets since his company's founding 15 years ago, to save time and money. Usually, they're discarded into the ocean after launch.
Musk plans to retire the recycled booster and display it in Cape Canaveral.
SpaceX plans to launch another satellite this month, but with a fresh booster.
Meanwhile, Nasa's New Horizons spacecraft is now halfway between Pluto and its next much, much smaller stop.
New Horizons - which reached the milestone this week - is bound for an even more remote object called 2014 MU69.
Like Pluto, the object orbits in our solar system's twilight zone known as the Kuiper Belt, but is barely 1 per cent its size. MU69 is nearly 1.6 billion km beyond Pluto.
The spacecraft will swoop past MU69 on January 1, 2019.
"That flyby will set the record for the most distant world ever explored in the history of civilisation," chief investigator Alan Stern of Southwest Research Institute said.
With another 750 million km remaining, New Horizons will go into a five-month hibernation later this week.
Although still zooming along, the spacecraft is slowing down slightly as it gets farther from the sun.
Besides aiming for MU69, New Horizons will study a couple dozen other Kuiper Belt objects from afar.
New Horizons arrived at Pluto in July 2015, becoming its first visitor from Earth. It launched from Cape Canaveral in 2006.
The spacecraft is 5.7 billion km from home. It takes radio signals five hours and 20 minutes to reach the spacecraft from the control centre at Johns Hopkins University in Laurel, Maryland.
Updated SES-10 launch and landing photos → https://t.co/095WHWMtKp pic.twitter.com/cCD2eaOVvP

— SpaceX (@SpaceX) April 4, 2017
- AP