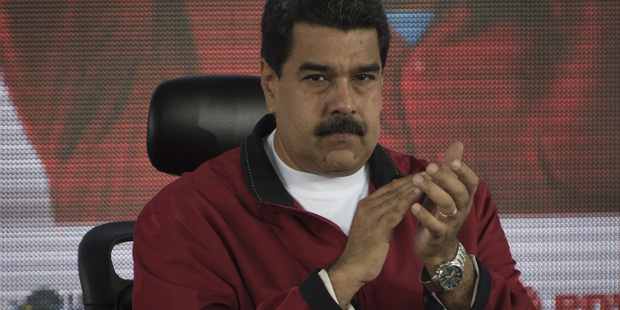 Venezuela's Supreme Court has ruled it can take over the powers of Congress in what opponents of socialist President Nicolas Maduro as well as foreign governments denounced as the latest step toward installing a dictatorship in the South American nation.
The magistrates said that as long as lawmakers remain in contempt of past court rulings nullifying all legislation coming out of the opposition-controlled National Assembly, the high court can step in and assume congressional duties itself.
Peru's Government immediately recalled its ambassador in protest while condemnations poured in from governments across Latin America.
The head of the Organisation of American States called for an emergency meeting to deal with what he called a "self-inflicted coup d'etat" by Maduro against the congress.
Some hardline Venezuelan opposition members went on social media to appeal for the military to intervene.
The US State Department reiterated its call for immediate elections to resolve Venezuela's political crisis, saying the decision to "usurp" the National Assembly's powers represented a "serious setback for democracy in Venezuela".
While past decisions by the government-stacked Supreme Court had stripped power from congress, the latest move allows Maduro to rule by fiat, said Julio Borges, the assembly's president. He joined opposition leaders in calling for a new round of demonstrations beginning with a march today, although recent attempts to apply street pressure on the Government have failed to attract a large following.
"Maduro is now the National Assembly," Borges said. "It's one thing to try and build a dictatorship and another to complete the circuit."
It was not immediately clear, however, what practical impact the ruling will have.
Maduro has jailed dozens of opponents and ridden roughshod over lawmakers' powers ever since the opposition swept congressional elections by a landslide in 2015 and immediately set out to remove the socialist leader from office through a recall referendum.
The high court a year ago issued an order automatically nullifying all legislation coming out of congress, and earlier this week it moved to limit lawmakers' immunity from prosecution.
Despite the frenzied activity among opposition activists and foreign diplomats, most Venezuelans seemed in no mood for a fight.
Except for a small group that protested outside the Supreme Court and another one that briefly blocked traffic on a Caracas highway, the streets were calm as Venezuelans accustomed to Maduro's aggressive tactics spent time waiting in long lines for food and going about daily chores that have become increasingly difficult as Venezuela's economy has suffered.
The surprise ruling stemmed from congress' refusal to authorise a joint venture with private companies by Venezuela's state-run oil company.
State media yesterday took a far different tone, saying the court's ruling was not seeking to supplant Congress but rather guarantee the rule of law so long as congress remains obstructionist, refusing to sign off on a budget and key economic decisions Maduro says are needed to overcome widespread shortages and triple-digit inflation.
"We denounce the conspiracy by the region's right-wing to attack Venezuela's democratic system," Foreign Minister Delcy Rodriguez said on Twitter.