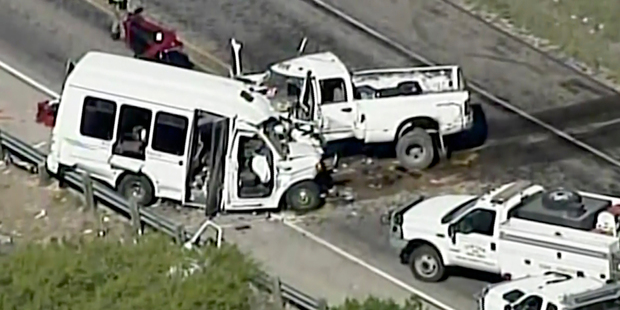 The driver of a pickup truck that collided with a church minibus in rural Texas, killing 13 people, apologised after the crash and acknowledged he had been texting while driving, a witness said yesterday.
Jody Kuchler told the Associated Press he was driving behind the truck and had seen it moving erratically prior to the Wednesday collision on a two-lane road about 120 km west of San Antonio, near the town of Concan. Kuchler said the truck had crossed the centre line several times while he followed it.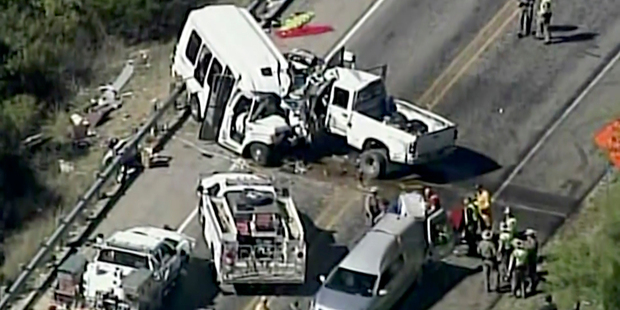 Kuchler said he called the sheriff's offices for both Uvalde and Real counties while he followed the truck and told them "they needed to get him off the road before he hit somebody".
Kuchler said he witnessed the crash and afterwards, he checked on both the bus and the truck and was able to speak with the driver, who has been identified by the Texas Department of Public Safety as 20-year-old Jack Dillon Young, of Leakey, Texas.
"He said, 'I'm sorry, I'm sorry. I was texting.' I said, "Son, do you know what you just did? He said, 'I'm sorry I'm sorry,'" Kuchler quoted the pickup driver as saying.
Department of Public Safety Sgt. Conrad Hein declined to comment yesterday on the cause of the crash or if texting might have played a role. But officials have said the truck driver appeared to have crossed the centre line.
Young remains hospitalised following the crash.
Twelve people died at the scene, authorities said. Another bus passenger died at a San Antonio hospital.
The National Transportation Safety Board sent investigators to start looking into the crash.
The First Baptist Church of New Braunfels, Texas, said its members were returning from a three-day retreat at the Alto Frio Baptist Encampment in Leakey, about 15 kilometres from the crash site.
It is not yet clear if the bus passengers were wearing seatbelts or even if the minibus was fitted with suitable restraints.
The wreck occurred along a curve in the road where the speed limit is 100kmh, according to DPS officials.
- AP