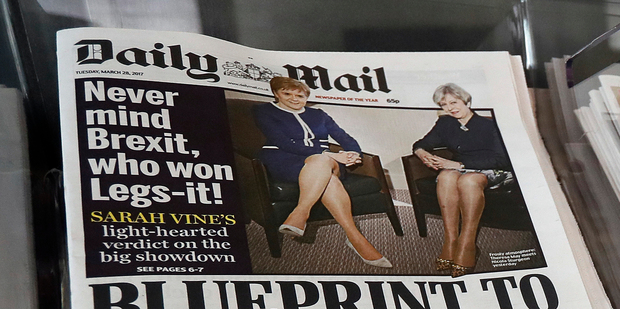 British politicians have lambasted a popular tabloid for "moronic" sexism after it splashed a photo of Prime Minister Theresa May and Scottish First Minister Nicola Sturgeon's legs across the front page with the headline "Never mind Brexit, who won Legs-it!".
The public took to social media to denounce the Daily Mail for focusing on the two leaders' legs when they met to discuss Britain's departure from the European Union and a potential referendum on Scottish independence.
It's 2017. Two women's decisions will determine if United Kingdom continues to exist. And front page news is their lower limbs. Obviously pic.twitter.com/AMp0YvtISa

— Yvette Cooper (@YvetteCooperMP) March 27, 2017
"The 1950s called and asked for their headline back.#everydaysexism," tweeted Labour parliamentarian Ed Miliband using a hashtag for highlighting women's experiences of sexism.
Jeremy Corbyn, leader of the opposition Labour Party, tweeted: "It's 2017. This sexism must be consigned to history. Shame on the Daily Mail", while veteran Labour lawmaker Harriet Harman branded the coverage "moronic".
It's 2017. This sexism must be consigned to history. Shame on the Daily Mail. pic.twitter.com/V3RpFSgfnO

— Jeremy Corbyn MP (@jeremycorbyn) March 27, 2017
The paper featured more photos of the two leaders inside above another headline: "Finest weapons at their command? Those pins!"
A columnist described Sturgeon's legs as "altogether more flirty, tantalisingly crossed ... a direct attempt at seduction".
Theresa May has said it was a "bit of fun", telling the Wolverhampton Express and Star: "You will notice that I am wearing trousers today!
"As a woman in politics throughout my whole career I have found that very often, what I wear - particularly my shoes - has been an issue that has been looked at rather closely by people.
"Obviously what we do as politicians is what makes a difference to people's lives. I think that most people concentrate on what we do as politicians.
"But if people want to have a bit of fun about how we dress, then so be it."
Breaking news: two women have four legs between them. Forget their brains - utterly immaterial. United by being unwitting pin-ups pic.twitter.com/RY64nVMLyF

— Emma Barnett (@Emmabarnett) March 27, 2017
This is what happens when you let that drunk, pervy uncle at a wedding edit a newspaper. pic.twitter.com/FQcqjjQMNJ

— Jane Bradley (@jane__bradley) March 27, 2017
More than 300 people complained to press regulator Ipso about the front page.
In a statement, the Daily Mail said the piece was "a sidebar alongside a serious political story" and had been flagged as "light-hearted" and told its critics to "get a life".
A spokesperson for the paper said: "For goodness sake, get a life! Sarah Vine's piece, which was flagged as light-hearted, was a side-bar alongside a serious political story.
"Again for the record, we often comment on the appearance of male politicians including Cameron's waistline, Osborne's hair, Corbyn's clothes - and even Boris's legs.
"Is there a rule that says political coverage must be dull or has a po-faced BBC and left-wing commentariat, so obsessed by the Daily Mail, lost all sense of humour...and proportion?"
It was the Daily Mail NOT the Daily Mali that produced this offensively sexist front-page. Complaints to @MailOnline pic.twitter.com/b8sqDWk7QD

— Daily Mali (@MaliDaily) March 27, 2017
The coverage of the meeting generated a torrent of criticism on Twitter with members of the public branding it as "utterly puerile" and "sexist, derogatory trash journalism".
"Has anyone told the #DailyMail that we put the clocks forward by an hour, not back 3 decades?" one woman tweeted, referring to the country's switch to British Summer Time at the weekend.
Alan Rusbridger, the former editor-in-chief of the Guardian newspaper, highlighted the ridiculousness of judging leaders on their physical attributes by tweeting "Nice pins" above a famous picture of wartime leaders Winston Churchill, Franklin D. Roosevelt and Joseph Stalin at the Yalta conference in 1945.
Nice pins. #legsit #newspaperoftheyear #nevermindbrexit pic.twitter.com/hXdK1KbrN2

— alan rusbridger (@arusbridger) March 27, 2017
The Daily Mail, which has a circulation of 1.45 million and reaches millions more online, backed Brexit in last year's referendum on Britain's EU membership.
Sturgeon, who heads Edinburgh's devolved government, wants Scotland to hold a referendum on independence before Britain leaves the European Union.
- AAP