Londoners have told those responsible for the terror attack that today's events did not succeed in crushing their spirits and making them afraid.
A defiant trend has popped up on Twitter, as people commuting home and going about their business in the British capital in the wake of the attack tweeted "we are not afraid".
Many shared pictures of a Tube sign Photoshopped to display the hopeful slogan as people from London displayed their stiff upper lip on social media.
You will not break us, only bring us closer together. #LondonIsOpen #LondonStrong #WeAreNotAfraid #Westminster pic.twitter.com/tZbVWNzQbh

— Baz (@baz_j) March 22, 2017
#WeAreNotAfraid My heart goes out to all the people who went out this morning thinking it was gonna be 'just another day' #PrayForLondon pic.twitter.com/6C9onQZAlg

— Nerea (@Fangiirl_22) March 22, 2017
Nothing you can do can break my city #WeAreNotAfraid #Westminster #London pic.twitter.com/GQQ869VBd2

— Girl Who Likes Balls (@CFCgwlb) March 22, 2017
London has been through this before, we will go through this again. #WeAreNotAfraid #Westminster #Parliament pic.twitter.com/NtIOSbczB8

— je suis cassé (@MadonnaEffect) March 22, 2017
#London is such a lovely & charming & gorgeous & wonderful city. My thoughts are with the victims of this horrendous act. #WeAreNotAfraid pic.twitter.com/4KQJZeXoBt

— Bennie (@BennieMe) March 22, 2017
At moments like this I feel very patriotic about Britain's reputation for calm and cups of tea. #wearenotafraid https://t.co/RC38FP2oHJ

— Peter Jukes (@peterjukes) March 22, 2017
To the policeman who was killed today at Westminster protecting lives in our parliament, you are a true British hero. #wearenotafraid

— Olivia Millington (@xOliviaAlice) March 22, 2017
#WeAreNotAfraid because we know that humanity still exists

— pebe (@duhouis) March 22, 2017
We will NOT be divided. We are #StrongerTogether and #WeAreNotAfraid
Let us not judge; terrorism is to blame, not religion#PrayForLondon pic.twitter.com/rURfU8QNXL

— Evie the Cat (@HMCabinetCat) March 22, 2017
For those who run into the danger, to keep us safe and free. Thank you. #WeAreNotAfraid and we never will be. pic.twitter.com/IJnN965sbg

— Adele (@compaddicted) March 22, 2017
my heart goes out to those injured and to families of those we lost. #PrayForLondon #WeAreNotAfraid #westminster #london pic.twitter.com/sLPaI07YmN

— Karina (@kikiclassics) March 22, 2017
Five people are confirmed dead after a knife man attempted to strike fear into the heart of the capital in an attack which left a policeman among the casualties.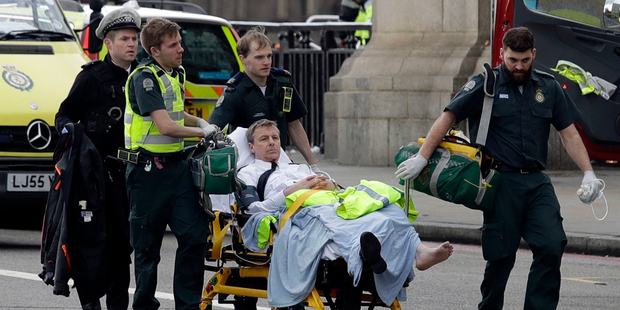 Mark Rowley, Scotland Yard's top anti-terror officer, confirmed that 40 people were injured after the attacker, armed with two large knives, mowed down pedestrians with his car on Westminster Bridge then rushed at the gates in front of the Houses of Parliament, stabbing a policeman before he was shot by armed officers.