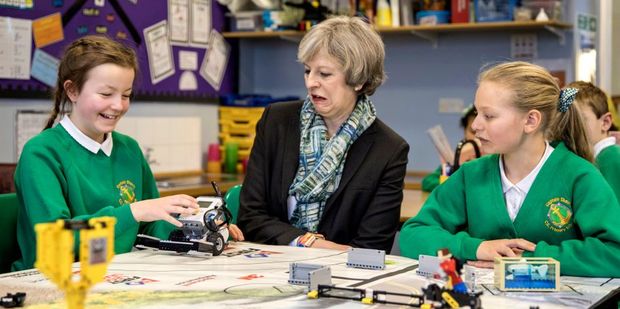 Are you really a politician if you haven't had an awkward photo shoot at a school?
British Prime Minister Theresa May hasn't learned that bringing photographers along as you meet children isn't a great thing to do when you are a politician, unless you're as suave as former US President Barack Obama.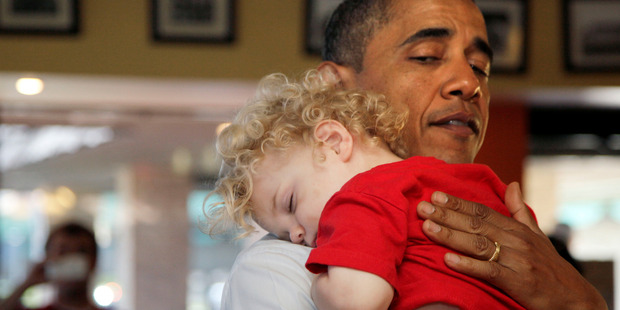 While she visited Copeland in western Cumbria to campaign for her candidate during the by-election, she stopped off at a school to meet some young future voters.
However, she appeared to grimace at their creations in the classroom, and was widely mocked on social media.
me when a child shows me something ( @gettyimages) pic.twitter.com/vjh6yZblom

— Esther Webber (@estwebber) February 15, 2017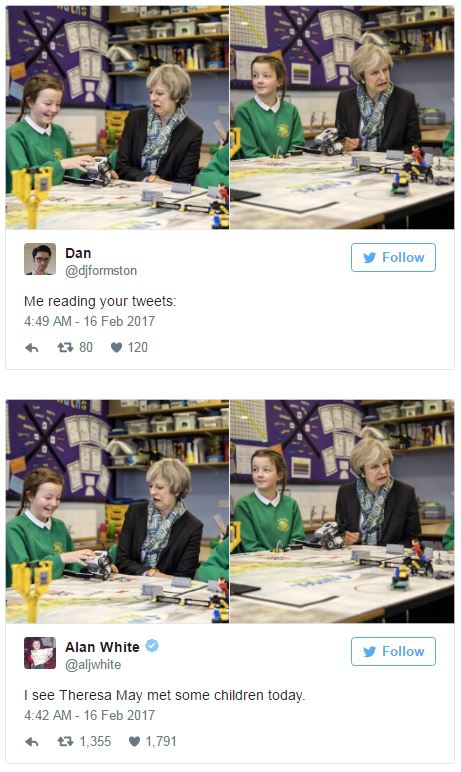 It isn't just Theresa May who has been caught off-guard while meeting children.
Other politicians have taken part in some bizarre photo shoots and unfortunate videos, and it appears to be a rite of passage on the campaign trial.
Here is a look at other times politicians have been forced to interact with young people.
Corbyn plays the violin as a child dabs behind him. Beautiful pic.twitter.com/8VTLUIuVtg

— helena horton (@horton_official) September 27, 2016
Many were amused as a child 'dabbed' - did a silly and mocking dance move - behind UK Labour leader Jeremy Corbyn while he played a tune on a violin.
this remains an iconic image (@PA) pic.twitter.com/D2yKqd21UI

— Esther Webber (@estwebber) February 15, 2017
Six-year-old Lucy Howarth was unimpressed when former UK Prime Minister David Cameron read a book to her and her classmates.
The young girl next to him put herhead in her hands when she was forced to sit with the then-Prime Minister.
@estwebber @GettyImages this is a belter pic.twitter.com/S9c0iRYXje

— Damo (@Damo_Dee) February 15, 2017
Another former UK Prime Minister Gordon Brown is pictured here getting a bit too excitable around a baby.
Gordon Brown trying to scare a baby.
UK ministers Ed Balls and Andy Burnham rather enjoyed using this swing.
This picture of Andy Burnham and Ed Balls on a swing isn't helping my fever pic.twitter.com/dyvNkIBU7y

— Danielle (@DanielleCoogan) August 9, 2016
And Liberal Democrat Nick Clegg seemed to prefer paying attention to a large plate of fruit than to the children he was visiting.
CAPTION COMPETITION: Nick Clegg launches the free school meals scheme..captions please???http://t.co/DiaC1Zvwyg pic.twitter.com/1fYapajFEh

— HuffPost UK Pictures (@HuffPostUKPics) September 2, 2014
Our own former Prime Minister, John Key, had a way with children, although this toddler didn't seem to trusting of the politician.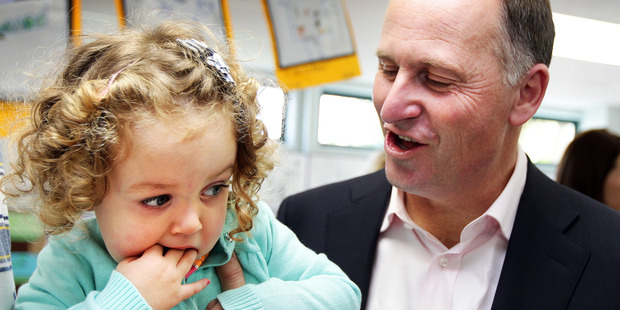 And who can forget this classic from the US presidential campaign of US President Donald Trump.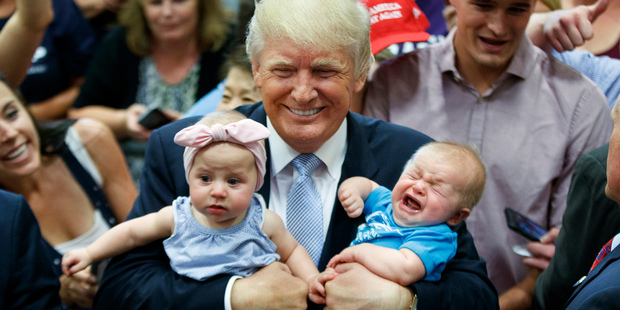 - Originally published in Telegraph UK