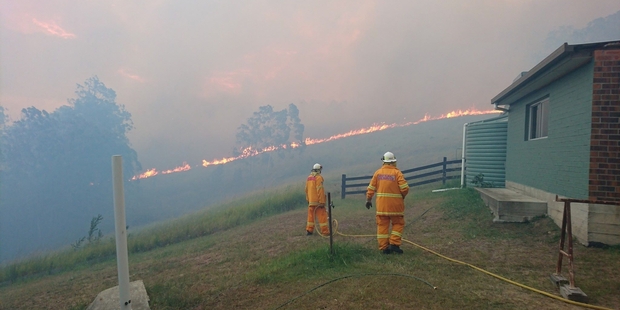 Firefighters were fighting dozens of fires across New South Wales yesterday after homes and livestock were destroyed at the weekend during catastrophic bushfire conditions.
Meanwhile, three people, including a former volunteer firefighter and a teenage boy, have faced court charged with deliberately lighting fires in separate incidents during the extreme heatwave conditions.
More than 2500 firefighters worked during the weekend to fight more than 120 bushfires across the state, with areas in the central western part of NSW the worst hit.
Temperatures in some areas reached 47C.
"Some volunteers fighting to save other people's properties actually lost their own," Premier Gladys Berejiklian told reporters at RFS headquarters in Sydney when thanking all those who'd fought the blazes.
Two firefighters required hospital treatment, Rural Fire Service commissioner Shane Fitzsimmons said yesterday.
One firefighter is in Tamworth Hospital with burns to the hands and face, while another is in Mudgee Hospital with a serious laceration to the hand.
While firefighters dealt with the catastrophic conditions, Fitzsimmons also praised the collective effort of RFS teams, community services, media and the community that no lives were lost.
"More than 1.5 million warnings were sent by telephone messaging to different parts of the community over the weekend," Fitzsimmons said.
Fire expert teams were yesterday heading to central west NSW to assess the sheer scale of loss from the weekend's blazes, as more than 80 bushfires continued to burn across the state yesterday.
"We know that there are going to be homes lost. We know there are plenty of other buildings that have been destroyed," he said.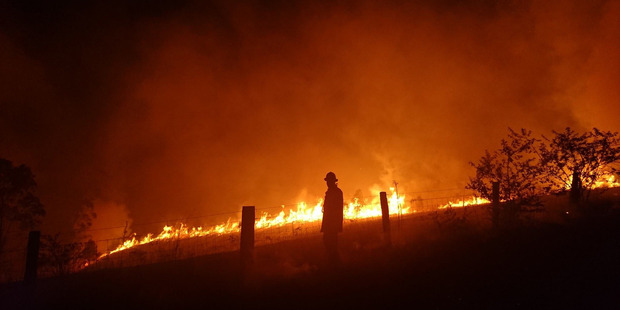 Livestock, machinery and community infrastructure such as churches and town halls have also been destroyed, he said.
By yesterday the Sir Ivan fire, east of Dunedoo, had burned through almost 50,000ha with an active fire edge of about 200km, Fitzsimmons said.
The nearby village of Uarbry had suffered significant damage, he said.
Cooler temperatures yesterday, after Sunday's catastrophic conditions, helped crews but the heat is forecast to return by the end of the week.
A southerly change yesterday was pushing the fire towards Leadville and Coolah, according to the RFS.
The Kains Flat fire northeast of Mudgee had already burnt through 5000ha.
Critical backburning and patrol work will be undertaken in the coming days, Fitzsimmons said.
Fitzsimmons has slammed the alleged fire bugs - males aged 13, 32 and 40 - for the "heinous crimes".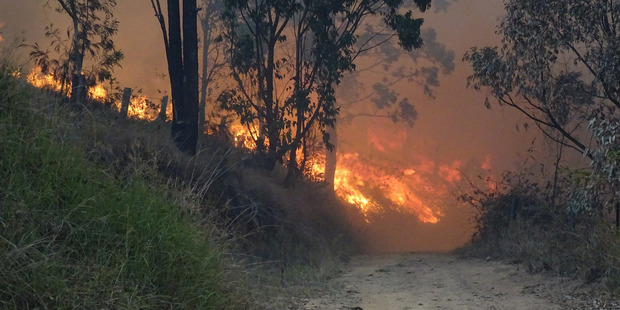 Police say fires were deliberately lit at Mango Creek on the Central Coast on Sunday, at Orange on Saturday and at Nabiac on the mid north coast on Friday.
Ricky Kenneth Ballard-Lestrange faced court in Taree yesterday charged with two counts of intentionally causing fire and being reckless to its spread in relation to the Nabiac fires. The 32-year-old is a former Rural Fire Service volunteer and had two children aged under 10 with him at the time he allegedly lit the fires, the Newcastle Herald reported.
Ballard-Lestrange entered a plea of not guilty and was remanded in custody to reappear in the same Taree court next week.
He was arrested on Sunday afternoon after two fires were deliberately lit at Nabiac and police acted on information from witnesses.
Separately a 13-year-old boy was due to face a children's court accused of starting a fire in Orange, and a 40-year-old man was arrested on Sunday on the Central Coast after fire crews were called to a blaze in Mango Creek.
Meanwhile, Victorians are being warned to brace for severe fire conditions as another "spike day" approaches. All districts apart from East Gippsland are expected to have a very high or severe fire danger rating on Wednesday before fire conducive conditions subside on Thursday.
- AAP