As it happened:
9am: President Donald Trump will visit the Department of Defense Friday to review the anti-Islamic State policy.
Spicer said that the president will visit the Pentagon to attend a ceremony for his newly confirmed defense secretary, retired Gen. James Mattis.
He says that Trump will also hold discussions with Mattis and the Joint Chiefs of Staff to review the fight against the Islamic State group.
The U.S. has nearly 5,000 soldiers taking part in the anti-IS coalition in Iraq, as well as special forces in both Iraq and Syria.
8.50am: The Trump administration is vowing to defend territories that are in international waters, including those in the South China Sea.
Responding to a question about China's claims over islands in the disputed area, press secretary Sean Spicer says that "we are going to make sure we defend international territories."
China is pitted against smaller neighbors in multiple disputes over islands, coral reefs and lagoons in waters crucial for global commerce and rich in fish and potential oil and gas reserves.
Trump ruffled feathers with China early after his Election Day victory, calling the leader of Taiwan and breaking the longstanding tradition of maintaining unofficial ties with the self-governing island.
8.45am: Spicer says President Donald Trump has left his businesses as promised, but another aide acknowledges there's no public documentation proving he's done so.
Spicer's comments come after the news organization ProPublica reported there have been no filings in Florida, Delaware or New York showing that Trump has handed over control of his global business empire to his two adult sons. Trump announced his plans to do so at a Jan. 11 news conference.
Spicer looked to communication aide Hope Hicks when asked about the issue at Monday's press briefing. Hicks said the documents showing the change of management are "not public at this time."
8.40am: The Trump administration appears to be backing off a campaign promise to immediately end former President Barack Obama's program to protect young immigrants from deportation.
White House Press Secretary Sean Spicer says that for now the administration will focus on criminal immigrants in the country illegally.
Spicer says in his first press briefing that "for now, that's not ... the focus is going to be on people who have done harm to our country." He had been asked about the Obama-era Deferred Action for Childhood Arrivals program.
DACA has protected more 750,000 young immigrants from deportation and offered those same immigrants work permits.
Spicer says Trump is instead focused on enforcement efforts on criminal immigrants and those who have overstayed their visas.
8.35am: Spicer says the Trump administration is continuing to build out a White House Spanish-language website but it remains a "priority" to get it back online.
Spicer was asked during his first White House press briefing about the recent closing of Spanish-language social media accounts since Trump's inauguration.
Spicer says "we've got the IT folks working overtime" to get the website back online along with issue areas on the site.
8.30am: Spicer is saying the Trump administration's "intention is never to lie to you."
Spicer said "sometimes we may disagree" about facts and said he wanted to have a "healthy relationship" with the White House press corps.
He added that "if we make a mistake, we'll do our best to correct" it.
The press secretary said he was given incorrect information about Washington Metro's ridership when he addressed the issue Saturday but insisted that, when TV and online viewership are combined, that it was the most-watched inaugural in history.
8.15am: Spicer says he is willing to partner with Moscow to combat the Islamic State group.
He said that President Trump has been "very clear" that he will "work with any country committed to defeating ISIS."
He says the administration will work "with Russia or anyone else" to defeat the militant group, either on a military front, or an economic front.
The president has vowed that he'll defeat the al-Qaida offshoot "quickly" when he takes office, though he has not provided specifics on his plans for U.S. military efforts in Iraq and Syria.
The U.S. and Russia have been at odds over Russian-backed Syrian military action in Aleppo.
8am: The White House is moving forward with plans to give what it describes as a more "diverse group of journalists" a chance to ask questions at briefings.
Spicer says that, beginning later this week, the White House will designate four "Skype seats" in the White House briefing room.
The idea is to provide an opportunity to ask question to a more diverse group of outlets that may not have the resources to hire a Washington correspondent.
The new administration has been discussing a series of potential changes to press operations.
Trump has long had a contentious relationship with the press.
7.55: Mr Spicer has slammed multinational agreements like TPP and praised bilateral negotiation.
7.50am: A Telegraph correspondent, caught a minor slip up by Mr Spicer.
Sean Spicer says Theresa May is the British head of state. Major shade towards the Queen.

— Raf Sanchez (@rafsanchez) January 23, 2017
7.45am: Mr Spicer just went through Mr Trump's weekly schedule point by point
Earlier
It's being billed as Donald Trump v the media round two.
After the row over "alternative facts" - the phrase used by key Trump aides to describe their take on the turnout to the President's inauguration on Saturday - White House press secretary Sean Spicer is due to front a press conference at 7.30am (NZT).
Mr Spicer lambasted the media on Saturday for what he said was unfair coverage of Trump's inauguration, sprinkling the tirade with demonstrable falsehoods.
Kellyanne Conway, a senior adviser to Trump, said on Sunday that Spicer had merely offered "alternative facts", offering a soundbite that spread like wildfire and was widely mocked.
Unlike on Saturday, the press will be able to ask questions in today's briefing, and the exchanges could well be combative.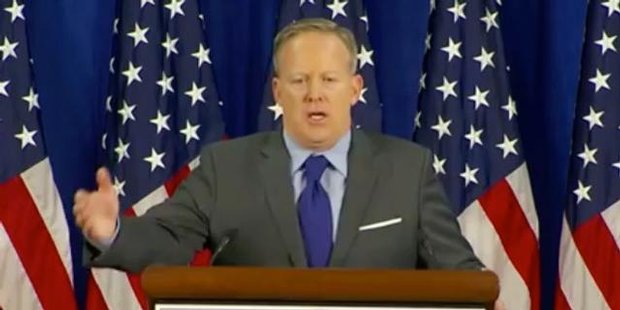 Trump got what he's calling his first working day as president off to a busy start when he met executives from some of America's largest companies, then went to the Oval Office to sign three executive actions.
They:
1. Removed the US from the Trans-Pacific Partnership trade deal, an act he described as "a great thing for the American worker";
2. Instituted a Federal government hiring freeze ("except for the military")
3. Limited government funding for foreign organisations which provide abortions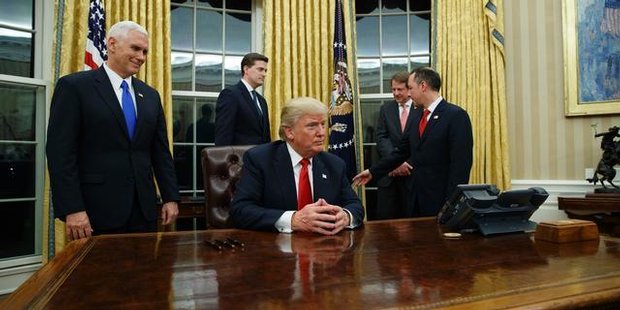 Trump has also spoken with President Fattah al-Sisi of Egypt, and is due to meet Speaker of the House, Paul Ryan later.
Egypt's presidency said President Abdel-Fattah el-Sissi who expressed hope for a "new push" in bilateral relations under Trump's administration.
The statement said Trump called el-Sissi and "expressed his appreciation for the difficulties Egypt bears in its war against terrorism".
Trump and el-Sissi have already shown a certain bond. Trump said there was "good chemistry" when they met on the sidelines of the UN General Assembly in September.