An Italian man has been joyfully reunited with his wife and son after those two were rescued from hotel buried by an avalanche.
Firefighter spokesman Luca Cari said so far 10 people have been found alive in the debris of the avalanche-struck Hotel Rigopiano in central Italy.
Cari gave the update as rescue workers continued trying to extract survivors from the collapsed buildings of the resort northeast of Rome.
Helicopters were ferrying the survivors to a hospital in Pescara on the Adriatic coast.
Giampiero Parete had been spared Wednesday's avalanche because it struck when he was out getting medicine for wife, Adriana.
She and son Gianfilippo, 8, were safely extracted from the snow-covered debris late yesterday.
Rescuers said the mother indicated her 6-year-old daughter Ludovica was also alive amid the debris nearby and rescue workers immediately set to work to find her, too.
Italian media said Parete and wife and son hugged at Pescara hospital, where the woman and child were taken, apparently in good condition.
He had sounded the alarm with telephone calls after the avalanche struck hours after the area was rocked by strong earthquakes.
First word of survivors came around 11am local time, news met with exhilaration since at least four people had already been found dead after the avalanche dumped more than 5 metres of snow on the hotel two days earlier.
Video released by rescuers showed a boy, wearing blue snow pants and a matching ski shirt, emerging from the structure through a snow hole. Emergency crews mussed his hair in celebration.
"Bravo, Bravo!" they cheered.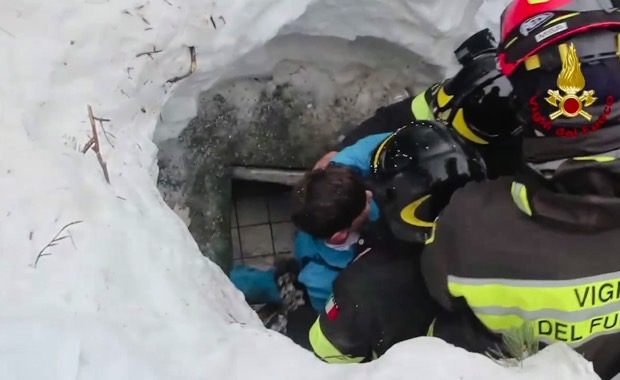 Next came a woman with a long ponytail wearing red snow pants, appearing fully alert. Both were helped to a stretcher for the helicopter ride out.
"This first news has obviously repaid all the rescuers' efforts," said Italy's deputy interior minister, Filippo Bubbico.
About 30 people were trapped inside the luxury hotel in the Gran Sasso mountain range.
Two people initially survived the devastation and called out for help. One of them was Parete, who had called his boss and begged him to call in rescue crews because his wife and two children were inside.
Rescue crews said the first group of survivors had been found in a kitchen area, and had survived thanks to an air pocket that formed when reinforced cement walls partially resisted the avalanche's violent power.
"It's probable that they realised the risk and took protective measures," Romano said.
Those being rescued were in remarkably good condition and were being flown to area hospitals, rescue workers said.
Titi Postiglione, operations chief of the civil protection agency, also said the survivors would be helping rescuers trying to find others trapped in the hotel.
"They can give us a series of indications to help with our intervention plan, information to understand what happened and help direct the search," she said.
The operations have been hampered by difficulty in accessing the remote hotel.
Workers have been clearing a 7km road to bring in heavier equipment, but the mountain road can handle only one-way traffic and is covered not only by snow but fallen trees and rocks.
Days of heavy snowfall had knocked out electricity and phone lines in many central Italian towns and hamlets, and the hotel phones went down early Wednesday, just as the first of four powerful earthquakes struck.
The force of the massive snow slide collapsed one wing of the hotel and rotated another off its foundation, pushing it downhill.
Parete reported that the guests had all checked out and were waiting for the road to be cleared to be able to leave. But the snowplough scheduled for midafternoon never arrived.
Prosecutors have opened a manslaughter investigation into the tragedy and are looking into whether the avalanche threat was taken seriously enough, according to Italian media.
The mountainous region of central Italy has been struck by a series of quakes since August that destroyed homes and historic centers in dozens of towns and hamlets. A deadly quake in August killed nearly 300 people. No one died in strong aftershocks in the region in October, largely because towns had already been evacuated.