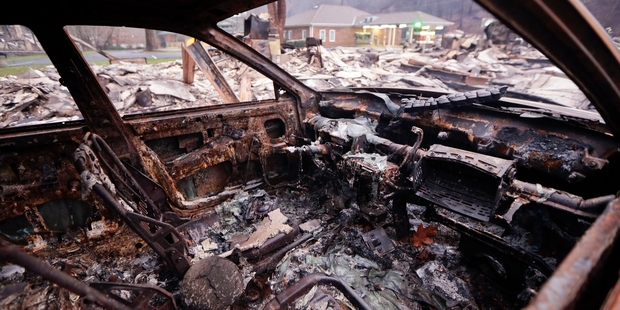 Three more bodies were found in the ruins of wildfires that torched hundreds of homes and businesses in the Great Smoky Mountains area, raising the death toll to seven, a Tennessee mayor.
Search-and-rescue missions continued, and Sevier County Mayor Larry Waters said they had found three people who had been trapped since the fires started spreading wildly in high winds on Tuesday. The mayor said the three were okay.
"That is some good, positive news for a change," he said.
Waters said authorities are still working to identify the dead and did not release any details about how they were killed. State law enforcement set up a hotline for people to report missing friends and family. Officials have not said how many people they believe are missing.
Three brothers being treated at a Nashville hospital said they had not heard from their parents since they were separated while fleeing the fiery scene during their holiday.
Gatlinburg Police Chief Randall Brackins said they have searched about 30 per cent or less of the city so far. More than 14,000 people were evacuated from Gatlinburg, and many of them are still nervously awaiting word of when they can get back in the city to see if they still have homes.
Buddy McLean said he watched from a deserted Gatlinburg street as flames surrounded his 10ha hotel nestled in the mountains.
His grandfather bought the land in 1945, and he developed a subdivision on part of it and built The Lodge at Buckberry Creek about 14 years ago on the mountainside to take advantage of the views of Mount LeConte. McLean said four rooms were booked and another 15 people were having a private dinner when the hotel's chef and event coordinator told everyone to evacuate. "I have 35 employees. All of them lost their jobs."
Storms moved through the area yesterday as part of a system ravaging the Southeast, spawning suspected tornadoes in parts of Alabama and Tennessee, killing five people and injuring more than a dozen.
Officials in the Gatlinburg welcomed the rain but were worried about mudslides, rock slides and high winds knocking trees onto power lines, perhaps creating new fires.
Most of those fires had been contained, but uncertainty remained for a region that serves as the gateway into the Great Smoky Mountains, the country's most visited national park.
The Rocky Top Sports World complex on the outskirts of town was serving as a shelter. Wolf McLellan stumbled into the facility after a day of wandering the streets. He said he was forced to evacuate a motel where he was staying. He grabbed his guitar, two computers and his social security card and tried to flee with his dog, Kylie.
"She was too scared to move with the smoke and sirens and she just stood there. I didn't want to drag her. I couldn't drag her. I figured the humane thing to do would be to just cut her loose."
- AP