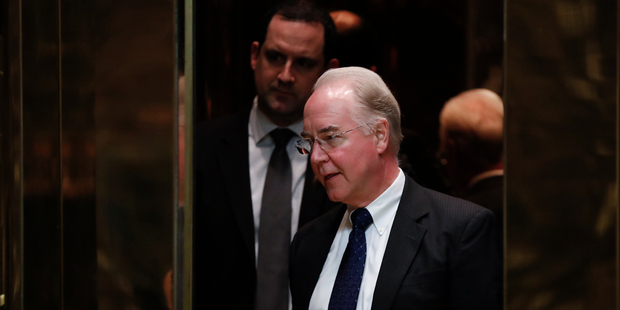 US President-elect Donald Trump has selected Georgia Congressman Tom Price to lead the Department of Health and Human Services.
That's according to a person familiar with the decision, which was expected to be announced today.
Price has been a leading critic of President Barack Obama's signature healthcare law. Trump has vowed to repeal the measure, though he has been unclear about exactly what he hopes to replace it with. Trump adviser Newt Gingrich has tweeted his approval, calling Price "the right leader to help Congress replace Obamacare".
Retired General David Petraeus, believed to be a candidate for Secretary of State, says he had a "very good conversation" with Trump at Trump Tower.
The former CIA Director says the two spoke for about an hour and says Trump "showed a great grasp of a variety of the challenges that are out there".
Petraeus says the two will "see where it goes from here". He did not respond to questions about whether Trump had offered him a job.
Petraeus was President Barack Obama's CIA Director in 2011-12 before resigning amid the disclosure that he had an affair with his biographer and shared highly classified information with her.
Meanwhile, Trump lashed out on Twitter as he faces questions about his promotion of a false conspiracy about massive voter fraud.
Trump retweeted a series of messages that were critical of CNN reporter Jeff Zeleny who called the unsubstantiated accusations "blatant and baseless".
He then tweeted that CNN "is so embarrassed by their total (100 support of Hillary Clinton, and yet her loss in a landslide, that they don't know what to do".
Trump has responded to a recount effort by arguing that illegal voting happened in the November election, but he has offered no proof. He has singled out Virginia, California and New Hampshire, but there has been no indication of widespread election tampering or voter fraud in those states or any others.
- AP