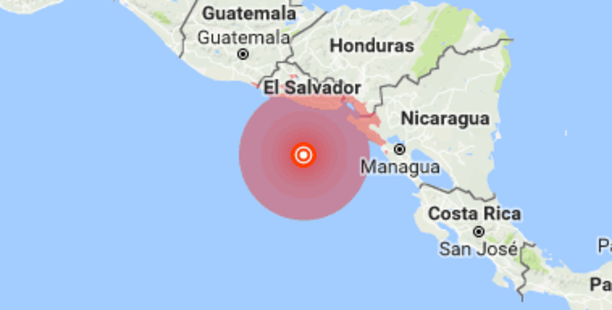 Nicaragua has declared a state of emergency after this morning's massive offshore earthquake.
Nicaraguan President Daniel Ortega has declared a state of emergency because of the magnitude 7 quake and after Hurricane Otto landed on the country's southeastern coast yesterday.
Category 2 Hurricane Otto hit land near the southeastern coast of Nicaragua, where thousands had already been evacuated away from vulnerable coastal areas and into shelters.
The US Geological Survey has revised this morning's quake from magnitude 7.2 to 7 but a tsunami alert has been issued for 300km of the Central American coastline.
People living along the country's Pacific coast have been advised to move at least 1km from the shore.
The earthquake was strongly felt in El Salvador's capital, San Salvador, 80km away from the epicentre, but Civil Defence said there were no immediate reports of damage or injuries.
The quake struck 153km southwest of Puerto El Triunfo and was 33km deep.
"We were serving lunch to the MPs and the earthquake started and we felt that it was very strong," said Jacqueline Najarro, a 38-year-old food seller at the Congress in San Salvador.
"We were scared."
Environment minister Lina Pohl said 3m tsunami waves were possible along the coastline.
The US Geological Survey said the tsunami alert affected 300km of the coastline of Nicuragua, El Salvador and Honduras.
Civil Defence said there was no risk to New Zealand.
Additional reporting: Bloomberg