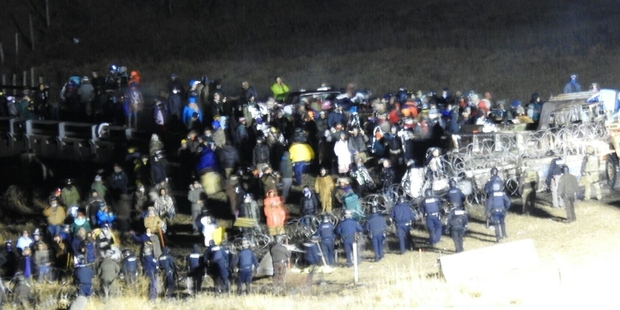 A New York woman seriously hurt protesting the Dakota Access oil pipeline faces multiple surgeries and could lose an arm, her father said yesterday, as protesters and law enforcement gave conflicting accounts about what might have caused the explosion that injured her.
Sophia Wilansky, 21, was listed in serious condition and was undergoing surgery in Minneapolis.
Wilansky's father, Wayne Wilansky, said his daughter was hurt when law enforcement threw a grenade.
The Morton County Sheriff's Office maintains authorities did not use concussion grenades or any devices that produce a flash or bang during a clash on Monday and Tuesday near the camp along the pipeline route in southern North Dakota where protesters have gathered for months.
The sheriff's office suggested that an explosion heard during the skirmish might have been caused by small propane tanks that authorities said protesters had rigged to explode.
Dallas Goldtooth, a protest organiser with the Indigenous Environmental Network, did not respond to a request for comment Tuesday.
Wayne Wilansky disputed the claim by authorities, saying "there's multiple witnesses and my daughter, who was completely conscious, said they threw a grenade right at her".
The North Dakota Highway Patrol in a statement yesterday backed up the sheriff's office's version of events, saying officers during the skirmish spotted protesters with "multiple silver cylinder objects". "It was at this time an explosion occurred and several protesters ran to the area, pulled a female from under the burned vehicle, and fled the scene."
During the clash, officers using tear gas, rubber bullets and water cannons.
The US$3.8 billion ($5.4b) pipeline to carry North Dakota oil to a shipping point in Illinois is largely complete outside of a stretch under a Missouri River reservoir in North Dakota near the Standing Rock Sioux Reservation. The tribe and others have been opposing the construction for months, saying the pipeline threatens the tribe's drinking water along with American Indian cultural sites.
- AP