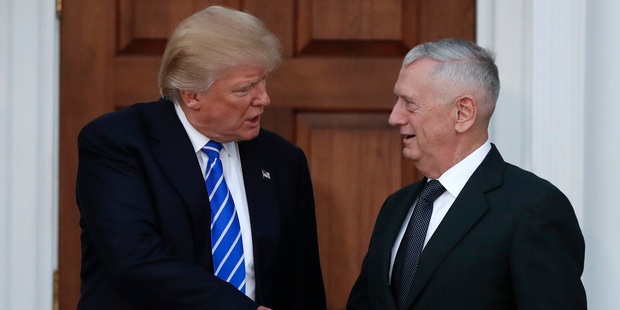 General James "Mad Dog" Mattis, who for years oversaw US war efforts in the Middle East and was yesterday touted by Donald Trump as a possible defence secretary, did not come by his nickname lightly.
Mattis, who is 66, commanded a marine battalion during the First Gulf War and a marine division during the 2003 invasion of Iraq. In 2010, the tough-talking native of Washington state was named to head the US Central Command. That gave him authority over troops in Iraq, where he helped develop a counterinsurgency approach before overseeing the US withdrawal, and Afghanistan, where he implemented a troop surge. It also gave him responsibility for an area including Syria, Yemen and Iran.
Previously, he led the US Joint Forces Command and a Nato command charged with preparing the alliance's forces to meet future challenges.
he earned the nickname "Mad Dog" with his battle-hardened swagger and the sort of blunt language marines are famous for.
He has been quoted as saying: "Be polite, be professional, but have a plan to kill everyone you meet."
Mattis' language has at times gotten him into hot water, such as when he said during a panel discussion in San Diego, California in 2005: "You go into Afghanistan, you got guys who slap women around for five years because they didn't wear a veil. You know, guys like that ain't got no manhood left anyway. So it's a hell of a lot of fun to shoot them." He later apologised for those words.
But for all the bluster, Mattis has a cerebral side. He has issued required reading lists to marines under his command, and instructed them that the most important territory on a battlefield is the space "between your ears". A scholar of warfare, he is said to have a personal library of more than 7000 volumes. And as a lifelong bachelor, he has another nickname: the "Warrior Monk".
- AFP