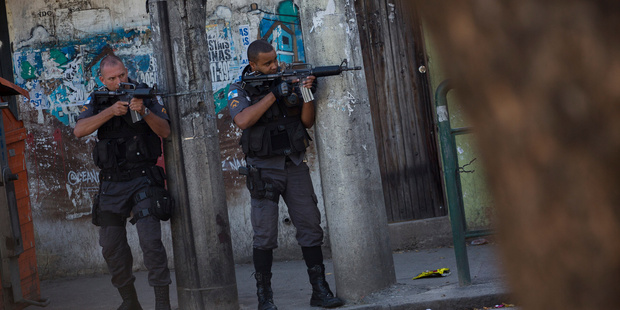 Police in Rio yesterday launched a vast operation in the City of God slum, where seven youths were found killed a day after four officers died when their helicopter crashed nearby.
The security chief for the state of Rio, Roberto Sa, described the huge public safety operation, which includes an armoured vehicle, as being open-ended.
"The entire favela is occupied by police," a resident of the slum said.
Sa told a news conference that seven bodies of young people who disappeared on Sunday were found yesterday in a swampy, hard-to-access area of the slum, known here as a favela.
Locals have accused the police of executing the seven, whose bodies were said to show signs of torture.
Sa said he had no information on the deaths, while adding, "No police excess will be tolerated, or will be left unpunished."
But he said people were sometimes too quick to accuse police of rights violations before all the facts were in, noting that 124 police officers have been killed this year in Rio.
At least three people have been arrested in the latest sweep, police said, adding that drugs and weapons had been seized.
The crash took place when the police, backed by two helicopters, entered the area after drug traffickers blocked a road, setting fire to trash and tyres, according to police.
Investigators hope to determine if the helicopter was struck by ground fire or suffered a malfunction.
Rio, which is home to 6.5 million people and drastic social inequality, suffers from high levels of crime, made worse by armed gangs of drug traffickers, but also by the presence of paramilitary militias.
- AFP