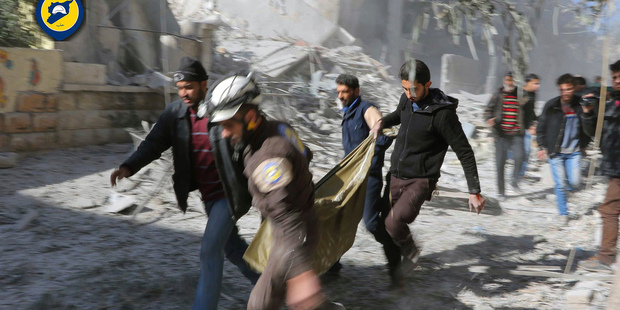 The Syrian Government yesterday refused the UN envoy's latest proposal for a truce in Aleppo, calling on insurgents to withdraw and saying it would not grant autonomy to the rebel-held east in exchange for calm.
Foreign Minister Walid al-Moallem said restoring government rule was a matter of "national sovereignty", and that Damascus would not allow the people of eastern Aleppo to be "hostages to 6000 gunmen".
"We agreed on the need that terrorists should get out of east Aleppo to end the suffering of the civilians in the city," he said.
He spoke after meeting with United Nations envoy Staffan de Mistura, who acknowledged a "major disagreement" with al-Moallem and said a "creative" if interim solution was required to halt the violence.
At least 172 civilians have been killed since the Government renewed its assault on the enclave six days ago, according to the UK-based Syrian Observatory for Human Rights.
The UN estimates 275,000 people are trapped inside. By Sunday, the Government had damaged or destroyed every hospital in the east, according to the Syrian American Medical Society, which supports hospitals in Syria.
The Government denies striking hospitals, and de Mistura said there was a "difference of opinion" about the attacks.
De Mistura has proposed that the Syrian government grant eastern Aleppo autonomy in exchange for peace, and called on the estimated 900 al-Qaeda-linked militants in the east to depart to other rebel-held territory.
Al-Moallem also called on the militants to withdraw, and said he hoped that US President-elect Donald Trump's incoming administration would cut off support for "terrorists" in Syria and "rein in" the states backing them, a reference to Turkey and Saudi Arabia.
President Bashar al-Assad said last week week that Trump could prove to be a "natural ally".
- AP