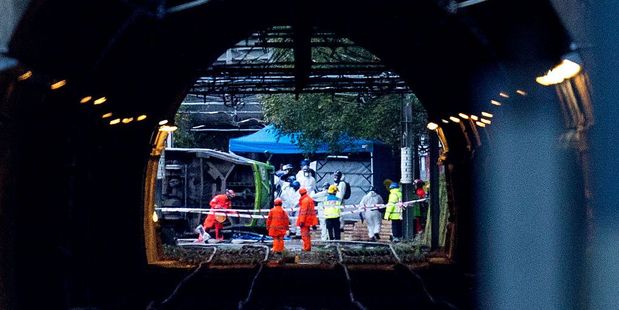 Investigators have determined that a London tram that crashed last week, killing seven people, was traveling at nearly four times the speed limit when it derailed.
An interim report by the Rail Accident Investigation Branch into the fatal crash said the tram was traveling roughly 71 km per hour while trying to negotiate a sharp bend with a 20kmh speed limit.
The tram derailed and turned over in Croydon in south London, leaving seven dead and about 50 injured.
The RAIB noted it was dark and raining heavily at the time of the crash but said there is a reflective board noting the speed restriction - around 30 metres before the point where the derailment occurred. The tram travelled 25m before stopping.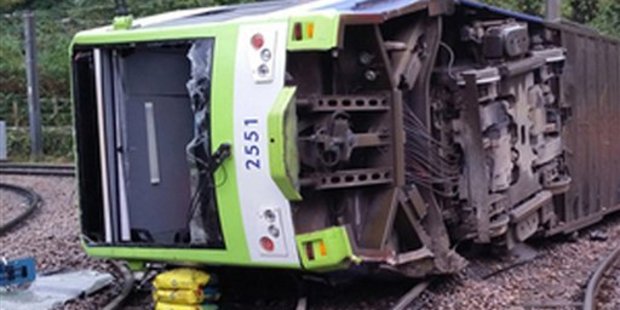 There were thought to be around 60 people on the tram at the time of the crash and the driver was the only member of staff onboard.
The early report did not find indications of faulty track or a brake system failure on the tram.
The 42-year-old tram driver, Alfred Dorris, was arrested on suspicion of manslaughter after the accident. He is free on bail. A spokeswoman for First Group, which carries out the day-to-day operation of the trams, said he had worked at the company since March 2008.
Chief Inspector of Rail Accidents Simon French said he would be in contact with the casualties and the families of those who died to keep them updated throughout the investigation "which will take some months to complete".
He went on: "Our ongoing detailed investigation will now look at the wider context of the accident, including the sequence of events, the way the tram was driven, the infrastructure and how people received their injuries."
The RAIB's initial findings were published as Transport for London offered to pay for the funerals of the seven people killed.
The seven victims of the crash were Dane Chinnery, 19, Philip Logan, 52, Philip Seary, 57, Dorota Rynkiewicz, 35, and Robert Huxley, 63, all from New Addington, and Mark Smith, 35 and Donald Collett, 62, both from Croydon.
It was Britain's first tram accident with on-board fatalities since the 1950s, and the biggest loss of life on the British tram system since 1917.
- AP, with Telegraph UK