The two sides in this bitter presidential campaign are likely to be arguing for years over the question of who was helped and who was hurt by the pair of political bombshells that FBI Director James Comey dropped into the final stage of the race.
But one effect seems beyond dispute. An agency that, at least in its recent history, has been considered the symbol of square-jawed rectitude has now taken a place in the larger, corrosive narrative of the 2016 election.
"Regrettably, this is of a piece with every event that happened before it in the campaign," said William Galston, a governance expert at the Brookings Institution. "In a way, it is a perfectly fitting end to a truly awful campaign."
The whole saga also will probably reinforce the disillusioned American public's perception that the political system is corrupt, and that the institutions of government are failing. It is likely, as well, to further undermine the legitimacy of whoever wins the election in this deeply polarised country.
Comey announced yesterday that his agency had found nothing in a newly discovered trove of emails to change its view from July that Democratic presidential nominee Hillary Clinton's use of a private email system did not merit criminal charges.
"We have not changed our conclusions that we expressed in July with respect to Secretary Clinton," Comey wrote.
In another kind of political season, that might have settled the matter.
But instead, it generated a new round of dark theorising from some of the same people who had praised Comey only nine days before, when he had notified Congress that the additional emails belonging to top Clinton aide Huma Abedin had been found on the laptop of her estranged husband, Anthony Weiner, a former congressman under investigation for allegedly sexting with a minor.
"Comey must be under enormous political pressure to cave like this and announce something he can't possibly know," tweeted former House Speaker Newt Gingrich, an ally of Donald Trump.
At a rally in Minnesota, Trump said: "You have to understand it's a rigged system, and she's protected."
The Democrats who had howled foul over Comey's announcement a week ago were feeling a palpable relief. "We were always confident that nothing would cause the July decision to be revisited. Now Director Comey has confirmed it," Clinton press secretary Brian Fallon tweeted. He added: "Trump's hopes of using Comey to distract the voters in closing days of the campaign just went up in smoke."
Comey's decision last month to make public his agency's inquiry into the new emails did inflict some political damage on the front-running Clinton campaign.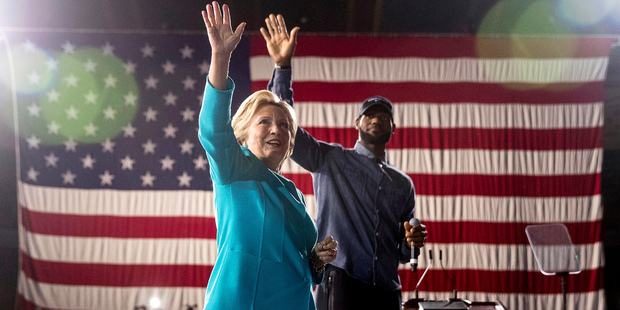 The polls narrowed significantly after his announcement, forcing Clinton to abandon her plans to assume a positive stance in the final days before the election. But tracking polls suggested that Clinton was beginning to regain her footing and has a three to five point lead.
The tightness of the race - and the multiple states poised to have a pivotal effect on the outcome - was apparent in the vast distances covered by the candidates and their surrogates.
Trump in Florida told supporters that he was on the path to victory, while his running-mate, Mike Pence, raced through Arizona, New Mexico and Colorado. Trump's children made stops in Colorado, North Carolina, Michigan, Ohio and Pennsylvania.
Trump told supporters in Minneapolis that the US would "not admit any refugees without the support of the local community where they are being placed".
Trump was due to visit North Carolina, Pennsylvania, New Hampshire and Michigan.
Clinton, who held events in Nevada and Arizona, was backed by heavy-hitters across the country, including President Barack Obama, Vice-President Joe Biden, and senators Elizabeth Warren and Bernie Sanders. Clinton said the country is facing a "moment of reckoning" and Americans must choose between "division and unity."
She campaigned with basketball star LeBron James in Cleveland, Ohio. In New Hampshire she was introduced by Khizr Khan, the father of a Muslim US Army soldier killed in Iraq. Bruce Springsteen will perform at a closing rally in Philadelphia at which President Barack Obama and first lady Michelle Obama will join Clinton and her husband, former President Bill Clinton.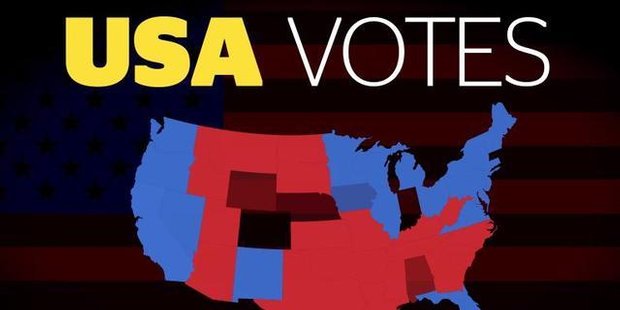 Gun sales up
You can tell US election day is near because gun sales are up.
"It's been steady all year. It's just in the past couple of weeks we've really started to see large spikes," said Will Doss, retail manager of Town Gun Shop in Richmond, Virginia. "We're up double-digits."
Nationwide, gun sales jumped 17 per cent from September to October, and last month's sales were 18 per cent higher than the same time last year, according to recent FBI background check data.
Retailers have reported surging gun sales every four years at election time, as uncertainty about the future and concern about changes to gun laws make people want to stock up, just in case. This year that spike is coming during a campaign season that has seen especially heated rhetoric about guns.
As Democratic nominee Hillary Clinton has called for tighter background checks and restrictions on military-style weapons, some supporters of Republican Donald Trump have made a point of wearing firearms at public events.
But guns have been hot for some time now. Beginning in 2003, gun sales have gone up for 13 straight years, although the numbers rise and fall from month to month, according to the FBI data.
Last year's total of more than 23 million FBI firearms background checks was roughly double the number for 2007, and this year is on pace to be higher.
"Just guessing, I'd say we're up 20 per cent" this month, said Grace Moates, owner of Bob Moates Sport Shop in Midlothian, Virginia.
"It's because a majority of people are afraid that if Hillary wins . . . she would limit their rights to keep and bear arms."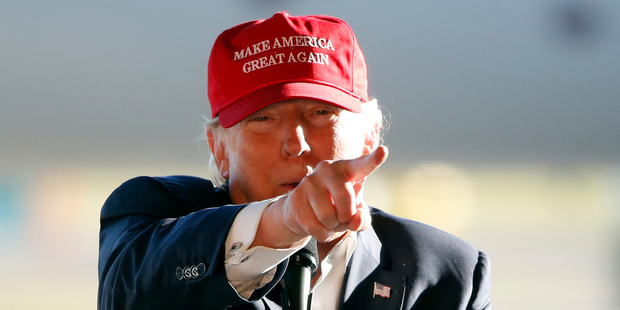 Weapons and votes
At the weekend, voters headed to drop off their absentee ballots at a voting location in Virginia's Loudoun County were greeted by a man sporting both a Trump shirt and a gun strapped to his waist, the Huffington Post reported.
"He's like, 'Who are you going to vote for, crooked Hillary?' And I was like, that's really none of your business," Erika Cotti, an active Democrat, told the website.
Virginia is an open carry state and, as in most open carry states, there is no exception for polling places.
State laws about guns and voter intimidation are a patchwork of wildly varying regulations. In Pennsylvania, for instance, voters can bring a handgun or rifle along to vote - but law enforcement has to stay at least 30m from the polling booth.
In South Carolina, you can't bring an open carry handgun into the polling booth, but you can bring an open carry rifle or other long gun inside.
Six states generally prohibit bringing guns in polling places - Arizona, California, Florida, Georgia, Louisiana and Texas.
Four ban concealed carry guns in polling places - Mississippi, Missouri, Nebraska and South Carolina.
The combination of gun-related election day rhetoric and a somewhat confusing web of state gun laws has some election officials worried - especially in swing states with open carry laws and a history of mass gun violence.
- AP, Washington Post