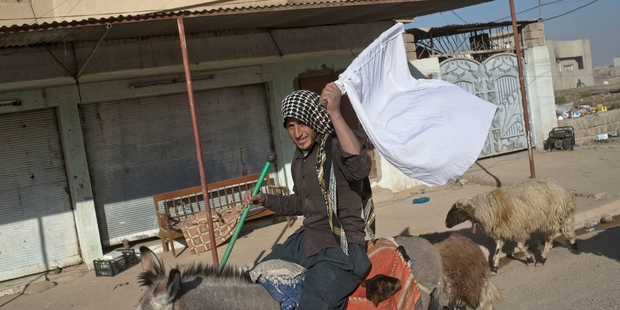 When he saw Iraqi forces approaching Mosul from afar, Abu Fahad yanked the white headscarf off his father's head, turned it into a makeshift flag and decided to sneak out.
The Iraqi managed to herd around 40 members of his extended family out of the neighbourhood of Samah "by advancing quietly, hiding under stairs, sidling along walls".
Yesterday, he and his relatives were receiving assistance at a camp in Khazir, a Kurdish-controlled area further east, where displaced civilians are arriving in growing numbers.
Most are from Mosul's outskirts, but Abu Fahad and a few others were able to find a gap in the tight seal Isis (Islamic State) had imposed on the city.
Two weeks after Iraq launched its largest military operation in years to retake Mosul, the last major Iraqi hub in the jihadists' shrinking "caliphate", forces reached the edge of the city.
Now the million-plus people believed to be trapped inside have to survive fire from both sides to flee the brutality of the jihadists who have ruled them for more than two years.
Abu Sara fled the same neighbourhood, dodging gunfire, bombs, mortar rounds and strikes from the United States-led coalition, such was his desperation to leave what many civilians who escaped Isis rule describe as an open-air prison.
"There were snipers shooting, mortars crashing down, it was hell," said the 34-year-old, wearing a brown fake leather jacket.
"We walked several miles, taking with us only the clothes we were wearing and white flags we waved the entire way."
Sitting next to him and stroking her belly, his pregnant cousin Umm Mustafa said she could hardly believe she had finally escaped her life spent "hiding under niqab" face veils.
Despite the cold filling the tent that is their new home in Khazir, she was all smiles and wore a teal-coloured dress with matching scarf. "We're coming back to life," she said.
Commanders say troops have encountered fierce resistance, while it was also reported that there had been an "unprecedented" wave of Isis suicide bombers, some of whom are children, against advancing Iraqi forces.
- AFP