Donald Trump warned yesterday that a cloud of investigation would follow Hillary Clinton into the White House, evoking the bitter impeachment battle of the 1990s in a closing campaign argument meant to bring wayward Republicans home. Clinton and her allies, led by President Barack Obama, told voters to get serious about the dangers of Trump.
As polls show Trump closing in on Clinton in key battleground states, her campaign is rushing to shore up support in some long-standing Democratic strongholds. That includes the campaign's Michigan firewall, a remarkable situation for a candidate who looked to be cruising to an easy win just a week ago.
Clinton's shrunken lead has given Trump's campaign a glimmer of hope, one he's trying to broaden into a breakthrough before time runs out. That means zeroing in on questions of Clinton's trustworthiness and a new FBI review of an aide's emails.
The attack is aimed at appealing to moderate Republicans and independents who have been the holdouts of his campaign, turned off by his behaviour but equally repelled by the possible return of the Clintons.
"Here we go again with the Clintons - you remember the impeachment and the problems." Trump said at a rally in Jacksonville. "That's not what we need in our country, folks. We need someone who is ready to go to work."
Clinton and allies, meanwhile, are seeking to keep the spotlight on Trump, charging that his temperament and his disparaging comments about women and minorities make him unfit for office.
"He has spent this entire campaign offering a dog whistle to his most hateful supporters," Clinton said, singling out Trump's endorsement from the official newspaper of the Ku Klux Klan and noting he has retweeted messages from white supremacists. "This has never happened to a nominee of a major party."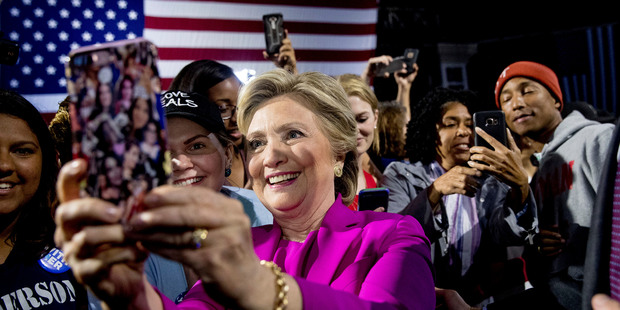 Clinton campaigned later with former primary opponent Senator Bernie Sanders and pop star Pharrell Williams in Raleigh, where she warned that Trump's election risked "normalising discrimination".
Trump's path to victory remains narrow. He must win Florida to win the White House, no easy feat. Still, his campaign has been buoyed by tightening polls there and in other key battlegrounds, as well as by signs that African-American turnout for Clinton may be lagging.
Clinton enlisted Obama's help urging those voters to the polls and lighting a fire under other Democrats, particularly young people, who share some of the wariness about Clinton. Speaking to students at Florida International University in Miami, Obama told voters now was the time to get serious about the choice.
"This isn't a joke. This isn't Survivor. This isn't The Bachelorette," he said, taunting the former reality-TV star. "This counts."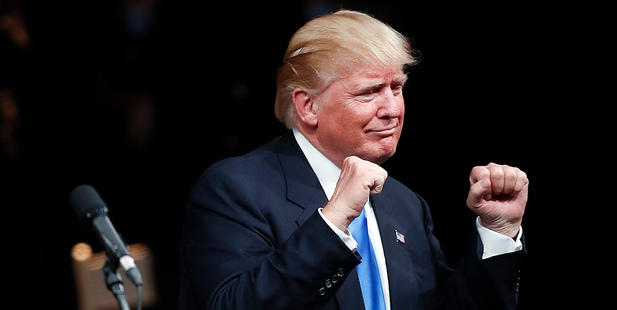 However, the famously unconventional Trump has been hewing closer to convention, running some upbeat ads, bringing out his wife for a rare campaign appearance and even talking publicly about trying not to get distracted.
"We don't want to blow it on November 8," Trump said Thursday at the rally in Jacksonville.
Trump's wife, Melania Trump, made her first appearance on the trail since the Republican convention in July.
She said in Philadelphia that if she becomes first lady she will focus on combating online bullying and working against a culture that has "gotten too mean and too rough".
- AP