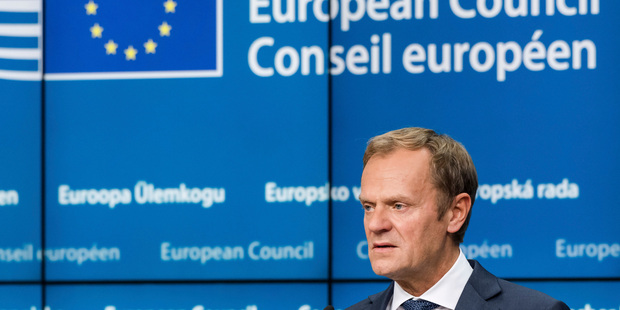 European Union leaders yesterday backed down from an explicit threat of sanctions against Russia over the bombing of Aleppo but warned that they would consider "all available options" if atrocities in Syria continue.
Italian Prime Minister Matteo Renzi demanded that any mention of possible punitive measures against Moscow over the Syrian carnage should be removed from a statement issued after a summit in Brussels. The climbdown underscored the deep divisions between the 28 EU leaders as they tried to thrash out a long-term strategy on their increasingly bellicose eastern neighbour.
The watered-down statement said the EU "strongly condemns the attacks by the Syrian regime and its allies, notably Russia, on civilians in Aleppo" and called for an "immediate cessation of hostilities". "The EU is considering all available options, should the current atrocities continue," it added.
An earlier draft had mentioned sanctions.
Russia had upstaged the summit by announcing that it would halt hostilities over Aleppo on the same day, and said it would extend the truce by 24 hours.
EU President Donald Tusk, who had earlier said that sanctions should be on the table, insisted that the leaders had agreed to "keep the unity of the EU" over Russia.
The leaders brought up Russian "airspace violations, disinformation campaigns, cyber-attacks, interference in political processes in the Balkans and beyond" and other issues.
"Given these examples it is clear that Russia's strategy is to weaken the EU," said Tusk.
Renzi, at whose request the EU held the discussion on Russia, said the priority had to be to "make all possible efforts to find a peace deal in Syria".
"I believe there wouldn't have been any sense in inserting a reference to sanctions, while the rest of the statement was what foreign ministers approved on Monday," he told reporters.
Moscow is President Bashar al-Assad's strongest ally and came to his rescue last year when rebels appeared to be gaining ground.
- AFP