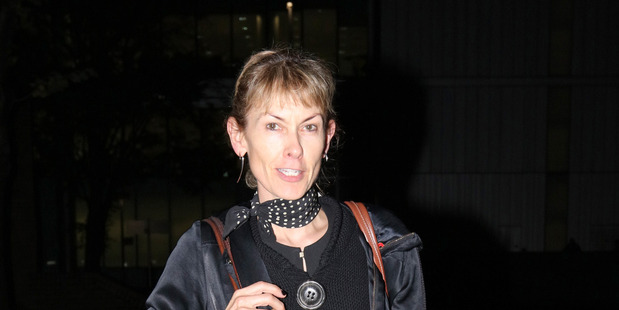 The Queen's Counsel who prosecuted Chris Cairns is facing professional ruin following sensational claims in a London courtroom that she lied to judges in another case in order to hide damning evidence of police corruption - at the risk of sending an innocent man to jail.
At the heart of the growing scandal, whose origins were exposed by the UK's Daily Mail in February, is Sasha Wass QC, the barrister who prosecuted entertainer Rolf Harris and the £2 billion rogue trader Kweku Adoboli.
A court has heard claims that Wass not only buried an official report by the Metropolitan Police confirming there was evidence that officers in its anti-corruption unit had taken bribes, but that she prosecuted the lawyer who brought the report to the attention of the authorities for perverting the course of justice.
The alleged attempted cover-up almost led to a lengthy prison sentence for the man who blew the whistle, Bhadresh Gohil.
The revelations were contained in a secret 4300-page dossier cited in court last Friday. They include the results of an investigation by Scotland Yard's Directorate of Professional Standards (DPS), which reports to Met Commissioner Sir Bernard Hogan-Howe.
The inquiry, led by Commander Peter Spindler, was said to show that a Met unit set up to investigate financial corruption was itself corrupted by ex-Met officers working for a private investigation firm, RISC Management.
They allegedly paid bribes running to thousands of pounds to a former colleague, Detective Constable John McDonald, in order to obtain sensitive information.
Gohil, during the course of an appeal against an earlier conviction on fraud charges, was charged in June 2014 with attempting to pervert the course of justice because he claimed that Det Con McDonald was being bribed by RISC and supplied documents to support this. McDonald had been one of the officers who had investigated Gohil at the earlier trial. The police and Crown Prosecution Service insisted his claims were bogus.
A CPS spokesman yesterday admitted it is now clear that, contrary to repeated statements by Crown lawyers in court and in legal documents, there is "material to support the assertion that a police officer received payment in return for information".
This, he added, should have been divulged in court long ago. But it is only now that "the process of disclosure to relevant parties is under way".
The dossier is covered by a legal gag that means anyone publishing it would risk prosecution. But according to statements made in court last week, which can be reported, the corruption of the unit was only part of a much wider onslaught perpetrated by RISC - described in court as "an organised crime group that infiltrated the Metropolitan Police", the Daily Mail reports.
In an email exchange with the Daily Mail, Wass admitted she had seen the dossier revealing RISC's "infiltration" of the Met as long ago as April 2014 - two months before she backed charging Gohil with attempting to pervert the course of justice. But, she claimed, it was only in January this year, "when new information was provided to me for the first time", that she "advised the Director of Public Prosecutions personally to drop the case".
Gohil's lawyer, Stephen Kamlish QC, stated in court on Friday that when Gohil was charged, the police, the prosecuting barristers and the CPS all had possession of the file containing the evidence of the Met's infiltration by RISC. Furthermore, Director of Public Prosecutions Alison Saunders authorised the prosecution of Gohil, and continued to oversee the case until it was dropped 18 months later. Gohil has now been paid £20,000 in an out-of-court settlement by the CPS for the three weeks he spent remanded in custody at the end of last year facing trial.
He said last night: "They had no basis even to begin this prosecution - other than to cover up police corruption. They paid me about £1000 a day - but the usual Home Office rate for wrongful imprisonment is £250 a day. What does this show? That they knew they were totally in the wrong and had been caught."
The tangled legal saga began in 2007, when police at Scotland Yard's Proceeds of Corruption Unit began investigating James Ibori, a Nigerian former provincial governor who had once been a cashier at a UK branch of Wickes. The unit, now part of the National Crime Agency, was set up to fight corruption in the developing world and is funded by the overseas aid department, DFID, to the tune of £20 million a year.
Gohil was Ibori's business lawyer and had helped him buy property and negotiated other deals on his behalf. In 2010, he was convicted of money-laundering and jailed for ten years. Ibori was arrested and tried two years later. He is still in prison, serving 13 years for corruption.
Gohil continues to protest his innocence, insisting he did all in his power to ensure "due diligence", and had no way of knowing that Ibori's wealth was ill-gotten. He pointed out that he was cleared of wrongdoing after a probe by the Solicitors Regulation Authority: "If I can win the appeal I am now fighting, I will get my licence back."
From the start of the Ibori investigation in 2007 until the perverting the course of justice charge against Gohil was dropped this year, the head of the Crown's legal team was Wass, assisted by Esther Schutzer-Weissmann, a junior barrister from the same chambers.
They prosecuted Gohil and Ibori in court, along with five co-defendants. They had a close working relationship that lasted years with the investigating detectives and with an in-house legal team at the CPS, led by senior Crown prosecutor David Williams.
While Gohil was in Wandsworth prison, he was sent 15 pages of documents suggesting RISC was bribing Met officers including Det Con McDonald, who played a central role in the Ibori-Gohil inquiry. Gohil used them to lodge an appeal, claiming the case against him had been contaminated by the corruption.
On the afternoon before his appeal was due to be heard in June 2014, he was told he was being charged with attempting to pervert the course of justice. He said: "I had been in an open prison, but I was transferred to a closed jail immediately. I knew the truth was out there and my nature is to fight. But this prejudiced the Court of Appeal totally."
At the appeal, Wass told the court that his claims of corruption were "manufactured really out of nothing and unsupported by any evidence at all". Although Det Con McDonald had "one contact" with his former police colleague, Clifford Knuckey of RISC, it was innocent.
There was, she added, "an audit trail of openness" that showed Mr Gohil's allegations were bogus, and no further documents that ought to be disclosed.
The court accepted everything she said and rejected the appeal.
According to Kamlish at Friday's hearing, weeks before Wass made these statements, Crown lawyers had drafted a memo citing more than 30 separate pieces of "evidence of corruption" and raised the issue of whether they should be disclosed to Gohil.
She and Schutzer-Weissmann also received an email from Williams at the CPS. It discussed the Crown's written response to the pending appeal, which was sent to the court before the hearing. It said that he had been talking to the police, and they wanted "the sentence re bragging" taken out.
The full text of this sentence, which was then altered by the CPS, read: "Intelligence suggested DC McDonald and RISC operative (ex MPS Det Inspector) were known to each other. Cliff Knuckey had bragged to others he had paid DC McDonald for information."
Kamlish said in court: "The document was tampered with in order to mislead the Court of Appeal."
Gohil was due to be released last November, having served half his sentence. At pre-trial hearings in the perverting the course of justice case, Wass indicated the Crown would not oppose bail. But a few days before Gohil was due to be freed, she changed her mind - and he was remanded in custody on new charges.
Kamlish said in court the secret dossier showed the charge of attempting to pervert the course of justice should never have been brought: "We have come across the clearest evidence that prosecuting counsel, Sasha Wass QC and Esther Schutzer-Weissmann, along with lawyers from the CPS and a number of officers from the DPS all prosecuted my client knowing he was innocent."
The evidence, he went on, showed "prosecuting counsel lied to this court" in pre-trial hearings, and to the Court of Appeal. On "multiple occasions", counsel had "said one thing, knowing another".
Legal experts said yesterday that for one QC to make allegations of this kind against colleagues was probably unprecedented. But Kamlish said: "Everything I said in court is fully supported by the evidence supplied by the prosecution and is in accordance with my professional duties and responsibilities."
Friday's hearing at Southwark Crown Court concerned the Crown's attempt to confiscate Ibori's property. The legal battle is set to move to the Court of Appeal, where Gohil has applied to reopen his money-laundering case. It is likely Ibori and the other defendants will also mount fresh appeals.
The CPS intends to resist them, insisting that, despite the evidence of police corruption, the convictions are "safe".
Gohil said he remained hopeful of the outcome: "I have lost well over £1 million through this, as well as five years of my liberty. But I am still with my long-term partner and my friends have stood by me. I've never even had a parking ticket. I am not a criminal."
Wass said that when she told the Court of Appeal there was no evidence to support the corruption allegations, she had been "assured by the police that the intelligence that the officer had received payment in return for information had been investigated and dismissed. On that basis, there was nothing adverse to disclose to the court".
The CPS spokesman said Wass is no longer prosecuting cases for the CPS and has "returned the briefs" in all the cases where she has been instructed. She is currently working to prosecute a major case for the Serious Fraud Office.
The Met said it could not comment while proceedings remain active. McDonald has always insisted he is innocent of corruption and was not charged as a result of the Met's internal investigation.
Since the Ibori case, he has been promoted to detective sergeant and remains a serving officer.
RISC Management has always denied that it paid money to police officers.
Wass led the prosecution of Chris Cairns in the Southwark Crown Court late last year, where the former New Zealand cricketer was acquitted of perjury and perverting the course of justice.
There was also an issue of evidence not being disclosed to Cairns' legal team before the trial.
The Crown said Lou Vincent had nothing to gain from implicating Cairns in match-fixing and Justice Sweeney issued a formal caution to Vincent that he did not have to answer questions which might incriminate himself of crimes.
While there was no immunity deal, emails emerged after Vincent had given evidence show he given assurances by the police that he would not be prosecuted because they were investigating perjury, not match-fixing.
Had he known the true position, Justice Sweeney said he would have issued a different warning to Vincent.
This would only have covered self-incriminating answers of crimes beyond what Vincent had already told the police.
"Any impression given that he was in peril of prosecution was wrong and should not form any part of your considerations," said Justice Sweeney in summing up the trial to the jury.
"With those warnings firmly in mind, what you make of his evidence in the end is entirely
a matter for you."