Days after explosive revelations about Donald Trump's predatory comments about women and Hillary Clinton's closed-door speeches to banking executives, some people who watched yesterday's presidential debate were so disgusted they said they wouldn't vote or were weighing a third-party candidate or write-in option.
Here are stories of voters watching the debate around the country:
Mormon Republican in Las Vegas
John Burns, 42, said both candidates seem like Democrats. Burns said the video of Trump's lewd talk didn't move the dial much for him; he agrees that the conversation was off-the-record "locker-room banter" and thinks women can be just as bad in private. Burns, who uses a wheelchair after being paralysed in a motorcycle accident at age 21, pumped his fist as Trump described a plan to repeal and replace Obamacare.
The verdict: "I'm almost ready to just sit this vote out because I'm so fed up with both sides," Burns said. "I want a clear constitutionalist to win this election, but that's not going to happen."
Cringing in Arizona
Sarah Parsons Fein, 38, of Tempe, had one word for yesterday's debate: "cringeworthy". "The whole thing is just terrible for me. It's like a car accident. You can't look away but you want to," said the 38-year-old stay-at-home mum. When asked about Trump's response to the controversy over his vulgar comments about women caught on tape, Fein wasn't swayed by him brushing them off as "locker-room comments". "I think that just perpetuates rape culture," she said.
The verdict: Fein plans to vote for Clinton after supporting Sanders in the Democratic primary.
Backing a different woman in Pennsylvania
Cheyanne Dawson, 22, of West Chester, said: "They're not good representations of what we want them to be." Clinton "just says what people want to hear, and so does Donald Trump, but you want someone to be genuine, authentic, and I don't think either of the candidates are like that". She is especially disappointed with Clinton who she thinks Clinton lies and lacks passion. But Dawson dismissed Trump immediately as a "social media" phenomenon.
The Verdict: She plans to vote for Green Party candidate Jill Stein.
Reluctant voter in Michigan
Andy Fox, 24, said he supported Sanders "to try something new" and is reluctant to vote for Clinton or Trump because "they're both criminals". Fox watched parts of the debate during work in Lansing. He said it did not assuage his fear that regardless of who is elected, "something really terrible is going to happen" in the next four years. With Clinton, he said, there will be "more wars" and with Trump, a "racial divide".
The Verdict: Fox said he probably will not vote.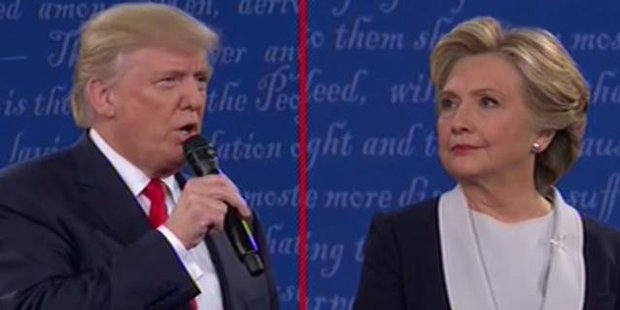 Listless Libertarian in Colorado
Elliot Fladen, 36, a lawyer in suburban Denver, doesn't know if he can bring himself to choose Clinton but he says he can't vote for fellow Libertarian Gary Johnson because he's scared Trump may win. "I've never voted for a Democrat in my life," Fladen said. "But can I sit by and let this delusional con-man Donald Trump become president? I don't think I can." Fladen frequently shook his head during the debate, laughing when Trump said he respects women. But he didn't warm to Clinton, either. "Every time Hillary Clinton opens her mouth, half of me wants to gag and say, 'I could never vote for this person'," Fladen said. "But then Trump opens his mouth, and it's like, 'Well, I guess she is the lesser of two evils'."
The verdict: Fladen prefers Johnson but is leaning toward Clinton to stop Trump.
Bernie backer in North Carolina
Patrick Trombetta, 53, is an independent who would never vote for Trump but also has trouble with Clinton. "I just disagree with her on a lot of issues," he said. "She says a lot of the right things - I just don't know that I believe her." The former medical device sales manager and his twin brother, Steve, were disgusted by Trump's comments on several topics, including allegations of sexual misconduct against Bill Clinton. As for Hillary Clinton, he said he was impressed with some of her answers. But he also felt she was hypocritical and disingenuous in other responses.
The verdict: Still undecided.
Student worried about Islamaphobia in Seattle
Irkan Abdullahi, 26, a university student, said she believes Trump doesn't respect women. "It's ridiculous. I mean, he's just saying things that he shouldn't," she said. Abdullahi, who is Muslim, said she liked that Clinton talked about her religion. "The things that she said really made feel good about this country and being here. When it came to Donald Trump, the things he said were very hurtful," she said.
The verdict: Abdullahi will vote for Clinton.
- AP