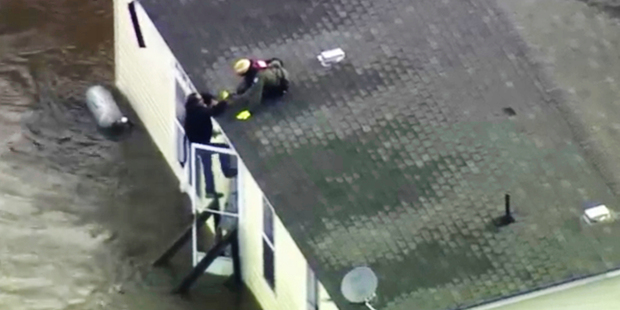 North Carolina Governor Pat McCrory says eight people have died after Hurricane Matthew smacked the state with torrential rains and authorities are searching for five people.
McCrory said that dangerous flooding will last into next week.
Thousands of people had to be rescued from homes and businesses when Hurricane Matthew's torrential rains triggered severe flooding in North Carolina.
Some were plucked from rooftops, others were clinging to trees and one woman and her small child were standing on their car as the rising waters swallowed it.
The death toll in the US climbed to at least 16 - half of them in North Carolina.
More than 500 were earlier killed by the storm in Haiti.
The rising Tar River is forcing the evacuation of Princeville, North Carolina, a town destroyed in flooding from Hurricane Floyd 17 years ago.
Edgecombe County announced on its Facebook page that a curfew will go into effect and they are bringing in buses to help get out the town's 2000 residents.
The National Weather Service says the Tar River at nearby Tarboro is already nearly 1.8m above flood stage.
It is forecast to crest tomorrow at nearly 11m, well into major flood stage but below the record 12.6m mark set in Floyd in 1999.
That flood destroyed nearly every one of the more than 700 homes in Princeville, the oldest town in the nation incorporated by freed slaves back in 1865.
- AP