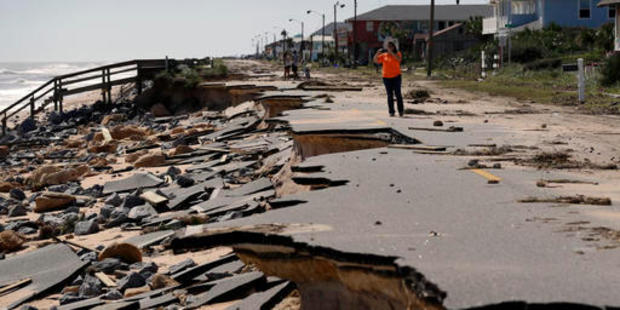 A fast-weakening Hurricane Matthew continued its march along the Atlantic coast on Saturday (US time), lashing two of the South's most historic cities and some of its most popular resort islands, flattening trees, swamping streets and knocking out power to hundreds of thousands.
The storm was blamed for at least four deaths in the US, all in Florida. In its long wake, it also left at least 900 dead in Haiti in one hard-hit district alone, according to officials, with other stricken areas still unreachable four days after the disaster struck.
Matthew raked Georgia and South Carolina with torrential rain and stiff winds, and - for the first time in its run up the U.S. coastline - its storm center blew ashore, making landfall north of Charleston, near the town of McClellanville, where it caused serious flooding.
Station cameras captured new views today of massive Hurricane Matthew. Matthew was moving through the Bahamas as a Category 4 hurricane. pic.twitter.com/ARD2odlCcQ

— Intl. Space Station (@Space_Station) October 6, 2016
Up until then, the centre, or eye, mercifully stayed just far enough out at sea that coastal communities didn't feel the full force of Matthew's winds. As the storm passed one city after another, the reaction was relief that things were nowhere near as bad as many feared.
"We are all blessed that Matthew stayed off our coast," Florida Governor Rick Scott said. "We are blessed that we didn't have a direct hit."
As of 2pm, Matthew - by some measures the most powerful hurricane to menace the US in more than a decade - was just barely a hurricane, with winds of 120km/h, and was hitting Myrtle Beach, South Carolina, and Wilmington, North Carolina. Its winds were down from 233km/h when it roared into Haiti.
Except for a few folks who've decided to ride out the hurricane, Savannah is deserted. This is Broughton St. #HurricaneMatthew pic.twitter.com/fLJQjd2iX6

— Richard Elliot (@RElliotWSB) October 7, 2016
From there, the storm was expected to veer out to sea and loop back around through the Bahamas and toward Florida, though as a barely noticeable wave.
North Carolina Governor Pat McCrory warned people not to let their guard down just because Matthew was losing steam.
As the hurricane began making its exit, it looked as if forecasters had gotten it right. Matthew stayed near the middle of the National Hurricane Center map's "cone of uncertainty" as it scraped the coast. Forecasters defended the large-scale evacuations.
"What would you rather have as the alternative?" said Colorado State University meteorology professor Phil Klotzbach.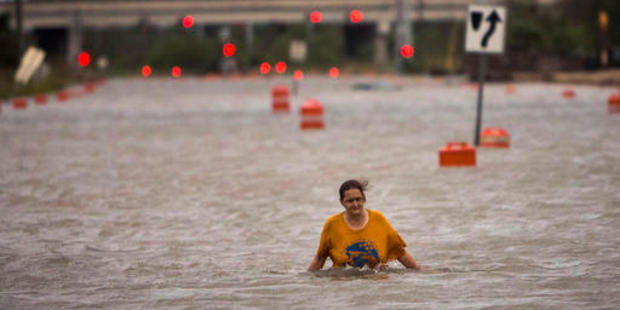 In Savannah, Georgia, a historic town of moss-draped squares and antebellum mansions, floodwaters several feet deep submerged a long stretch of President Street, which links downtown to the highway to Georgia's Tybee Island. A homeless woman was seen staggering through waters up to her neck.
The shivering woman made it to the water's edge. A bystander handed her a sheet, which she wrapped around her neck.
A Coast Guard helicopter crew also rescued a man stranded on a sailboat in a river near Tybee Island. And North Carolina officials said they had to rescue several people from cars and homes.
Matthew also brought some of the highest tides on record along the South Carolina coast. Streets in Charleston - a city of handsome pre-Civil War homes, church steeples and romantic carriage rides - were flooded.
New video of wave hitting my house!@WESH #HurricaneMatthew pic.twitter.com/t9lEQocCr8

— Grant Lynch (@grantlynch1234) October 7, 2016
Leigh Webber watched the torrential rains from the porch of her home in the city's historic district.
"It's not as bad as maybe I was expecting," she said.
"I feel badly for a lot of the businesses downtown that have been closed since Wednesday," she added. "I noticed a lot of hotels were completely closed. I know some weddings were canceled and it was a huge financial loss for a lot of people."
South Carolina's golf-and-tennis resort Hilton Head Island also took a blow as the eye of the storm passed 30km to the east. At least one gust of 140km/h was recorded at Hilton Head.
The two roads onto the island of 40,000 people were blocked by fallen pine trees, and many roads were under water. Signs were blown over, and power was out across the island.
Chandler Brunson and was among those trying to go back to her home after evacuating, but found her path blocked.
"I think we're going to have a pine tree splitting our house," she said. "That's what I'm afraid of."
Residents of Brunswick, Georgia, woke to roads covered by water or fallen trees and power lines. All access points to nearby St. Simons Island from the mainland were blocked. Tybee Island also took a beating, with gusts clocked at149km.h.
Nearly a half-million electric customers in South Carolina were left without power, and 250,000 were in the dark in coastal Georgia.
Downtown Savannah feeling the full fury of #HurricaneMatthew

This is Abercorn St. at Bay St. pic.twitter.com/NTPWZ6lhbd

— Richard Elliot (@RElliotWSB) October 8, 2016
Matthew set off alarms as it closed in on the US, triggering evacuation orders covering at least 2 million people. But in the end, the hurricane skirted Florida's heavily populated Miami-Fort Lauderdale-West Palm Beach area and sideswiped cities farther north, including Daytona Beach, Vero Beach, Cape Canaveral and Jacksonville, without its centre ever actually coming ashore in Florida.
The damage consisted largely of fallen trees and power lines, eroded beaches and flooded roads. In Florida, large sections of the coastal A1A highway near Daytona Beach were smashed to pieces.
Well south of the storm, things quickly began returning to normal Saturday, with all three of Orlando's main theme parks - Walt Disney World, Universal Studios and SeaWorld - reopening in the morning. And the power began coming back on for the 1 million people in Florida who lost it.
The deaths in Florida included an elderly St. Lucie County couple who died from carbon monoxide fumes while running a generator in their garage and two women who were killed when trees fell on a home and a camper.
The storm raked yet another historic Southern city on its way up the coast: St. Augustine, Florida, which was founded by the Spanish in the 1500s and includes a 17th-century stone fortress and many historic homes turned into bed-and-breakfasts. The city was left awash in rain and gray seawater, though the floodwaters had mostly receded by Saturday morning.
Property manager Nick Trunck was in the city's historic district to check on several stores and apartments. He said he was prepared for the worst, but the damage consisted of little more than several lost shingles, a lost awning and water seeping into one area.
Trunck had arranged for 10 men to come from Connecticut to help with the cleanup, but after getting a look at the aftermath, he said he didn't think he needed anything but "a couple of guys and a mop."
Property data firm CoreLogic projected the storm would cause US$4 billion to US$6 billion in insured losses on home and commercial properties. That compares with Hurricane Katrina's US$40 billion and Superstorm Sandy's US$20 billion.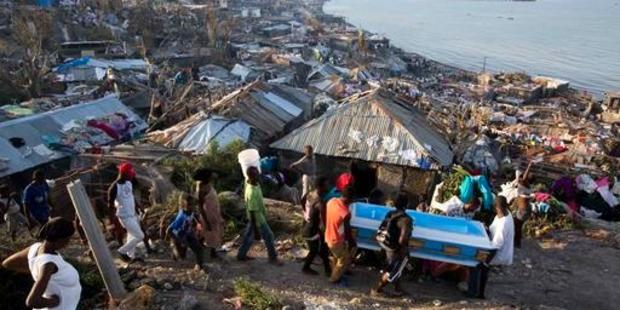 Meanwhile, the death toll in Haiti has risen to nearly 900 as rescue workers begin to reach remote regions hit by the hurricane.
Rescue workers and international aid agencies are working frantically to clean up after the worst storm to hit the region in a decade that follows a devastating earthquake six years ago.
According to aid agency CARE, some 61,500 people have been left homeless, with an estimated 80 per cent of buildings in the hardest hit city, Jeremie, in the country's south destroyed
CARE's Haiti director Jean-Michel Vigreux, said people in Jeremie were in "utter despair."
"Haiti is a country that's wrought with these recurring disasters, they're a very resilient people, but right now they're in shock," he said.
"A lot of people have lost their homes, their livelihoods and family members."