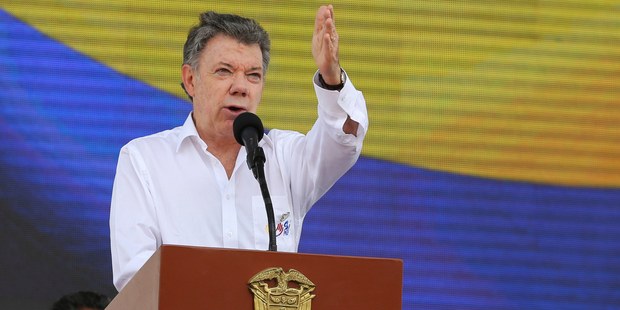 President Juan Manuel Santos is moving quickly on two fronts to save a peace deal narrowly rejected by Colombian voters, holding talks in Cuba with leftist rebels while inviting his chief opponent for a rare face-to-face meeting.
Government officials led by chief negotiator Humberto de la Calle met with their counterparts from the Revolutionary Armed Forces of Colombia, or Farc, in Cuba's capital to check on the rebels' willingness to reopen negotiations.
There was no immediate comment from the Government or the Farc. Any renegotiation would likely lead to tougher terms for the rebels than the ones in the accord reached in August.
Ever since the deal was narrowly rejected on Sunday in a referendum, Farc leaders have made clear they have no intention of resuming warfare but also insisted the vote has no legal implications and the deal signed last month in front of several heads of state is final.
If Santos needs the Farc's support to prevent the peace deal from collapsing, both parties need the help of the man who led the campaign against the accord: former President Alvaro Uribe.
Santos was Defence Minister under Uribe when they joined forces with the United States to beat back the rebels, and Uribe helped elect him President. But the two angrily split shortly after Santos took office.
Yesterday, however, the two men spoke by phone and set up a meeting at the presidential palace in what is believed to be their first encounter in years.
Prior to the referendum, polls had indicated the "yes" vote was winning by an almost two-to-one margin.
But Uribe tapped into widespread resentment of the rebels. He argued that provisions for keeping rebels who committed war crimes from going to jail and instead awarding them with seats in congress insulted victims and set a bad example that criminal gangs would seize on.
- AP