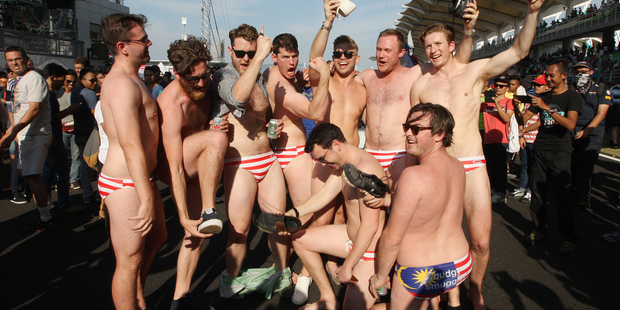 The Australians dubbed the "Budgie Nine" have been set free by a Malaysian court over their "moment of folly" at the Formula 1 Grand Prix in Malaysia.
The racing fans stripped down to tight-fitting swim briefs - known in Australia as "budgie smugglers" - emblazoned with the Malaysian national flag and quaffed beer from their shoes to mark Australian Daniel Ricciardo's race win on Sunday.
They were arrested for "intentional insult with intent to provoke a breach of the peace" and public indecency.
But after four nights in custody at a nearby police station they were today discharged and cautioned by a court in Malaysia.
Among the group of nine men was a staffer of Australian Defence Industry Minister Christopher Pyne, Jack Walker.
His father John Walker today addressed media outside the court.
"We are just relieved the boys are going home," Mr Walker said.
"They're good boys.
"We understand they (were) charged for public nuisance (but) the judge has the discretion to discharge them and that's what he did."
The men, mostly Sydney University graduates, could have spent up to two years in jail.
Earlier on Thursday, the men were taken from the cells up into Sepang Magistrates Court handcuffed to each other in pairs and ordered to stand.
One of the 'Budgie Nine' read out a letter of apology in court saying it was a "moment of folly".
Sepang assistant police commissioner Abdul Aziz Ali previously said he saw no problem with charges being laid - adding the group had bought the budgie smugglers in Australia to the race on Sunday with the clear intention of pulling the stunt.
When they were arrested on Sunday afternoon police alleged they were intoxicated and had revealed the swimsuits in a state of "happiness" following Ricciardo's win.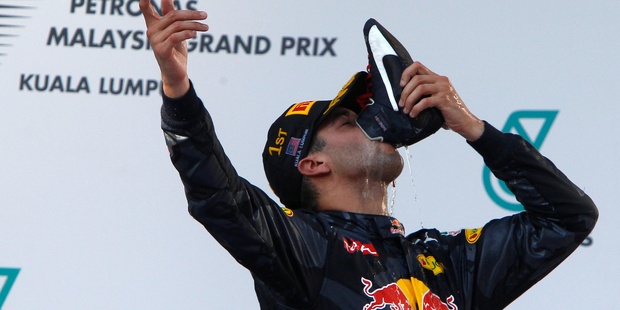 Ricciardo said he was unaware of the group's arrest until well after the fact and believes the men will have learnt their lesson.
Reports in Australia said they could be jailed for up to two years, but Ricciardo called on authorities to send them home.
Photos of the men flaunting the country's national colours went viral in Malaysia following the race, provoking angry comments from some social media users who accused them of insulting the country.
n June last year, four tourists, including a British woman, were arrested after images of them undressing at the top of Mount Kinabalu on the island of Borneo went viral.
They were sentenced to three days in jail, fined 5000 Malaysian ringgit ($A1580) and deported.
- With wires