A disbarred Harvard University-trained lawyer was set to plead guilty in a kidnapping case in California that police initially dismissed as a hoax, the US Attorney's office said.
Matthew Muller was expected to enter a new plea today, said Lauren Horwood, a spokeswoman for the office in Sacramento. Muller's lawyer, Thomas Johnson, has said Muller suffers from bipolar disorder.
Muller previously pleaded not guilty to a kidnapping charge that prosecutors say stemmed from his abduction of Denise Huskins from her Vallejo home in March 2015. Huskins' boyfriend, Aaron Quinn, reported that kidnappers broke into the couple's home, abducted Huskins and demanded US$8500 in ransom money - a figure police have said they found small.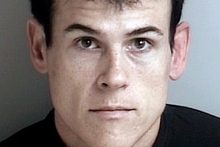 Huskins turned up safe two days later in Huntington Beach, where she says she was dropped off. After Huskins reappeared, Vallejo police said the kidnapping was a hoax.
Huskins has filed a lawsuit accusing police of wrongly likening the case to the movie, Gone Girl and damaging the reputations of her and her boyfriend. Investigators doubted Quinn's account and grew more sceptical when Huskins refused to reunite with her family soon after she reappeared.
- AP