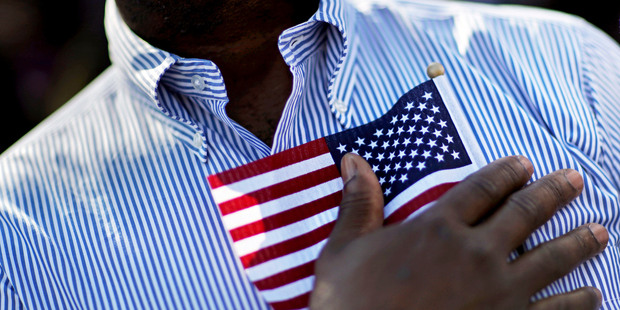 Lee Francis wanted to make a point about free speech. And he did - it just didn't play out quite as he intended.
The civics teacher from Massey Hill Classical High School in Fayetteville, North Carolina, was giving a lesson last week about the Bill of Rights that touched on Texas vs Johnson, the Supreme Court case upholding the constitutional right to burn the American flag.
To illustrate the landmark decision, Francis pulled out a full-size Star-Spangled Banner and laid it on the classroom floor.
"Does anybody have a lighter," he asked the class. When no one responded, Francis stepped on the flag several times.
Two students stormed out. The others stayed for the rest of the lesson.
The demonstration caused such an uproar among parents and administrators that the school district launched an "investigation" into Francis' conduct and placed him on paid administrative leave.
He said he's also received a barrage of hate mail and death threats.
But Francis is standing by his actions.
"Ironically enough, I feel like I was being a good American citizen by telling the students about the rights granted to them by the highest court in the country," Francis told the Washington Post. "It saddens me that people have taken such a negative turn."
Add Francis' case to the ever-growing list of American flag controversies that have gained US attention in the weeks since San Francisco 49ers quarterback Colin Kaepernick refused to stand for the national anthem last month.
A photo of Francis standing over the flag - taken by one of the students who left the class - has been shared hundreds of times on social media, drawing now-familiar criticism from users who found the demonstration unpatriotic and offensive.
A representative from the Cumberland County School System, where Francis is a teacher, wasn't immediately available for comment. But Cumberland County Superintendent Frank Till told the Fayetteville Observer that he's waiting until he gets more information about the incident before he decides what to do.
"I don't want to make any comments until I get it sorted all out," Till said.
Francis, who started at the school this year, said he doesn't know who is leading the investigation or when it will be resolved.
A Teacher Was Put On Leave For Stepping On The US Flag During A Class: Lee Francis was teaching a lesson on a... https://t.co/qfY6mKsjFo

— bygofran (@bygofran) September 21, 2016
One of the students who walked out during the teacher's demonstration, Alex Dunn, said he found Francis' lesson insulting because his father is in the US Army.
"He just has no respect, especially working in a military community," Dunn told ABC11.
Francis, who also has family in the military, said he never intended to actually burn the flag - rather, he wanted it to be a moment of levity in an otherwise serious lesson. The students who remained for the rest of class seemed to find the discussion "constructive," he said, adding that he's received supportive comments from students and teachers, as well as civil rights lawyers who heard the story.
But he said he's also fielded hundreds of hateful responses calling him a "terrorist" and racial slurs, and threatening his family. Some of the messages prompted him to file a police report, he said.
Still, Francis told the Post he doesn't hold anything against the students who walked out. His goal, he said, was to teach them about how the country's free speech protections have evolved over time.
"They are exercising their rights. They have the right to protest me," Francis said. "Would I have any negative feeling toward these students? Absolutely not. Their actions prove that I'm not telling people what to think."