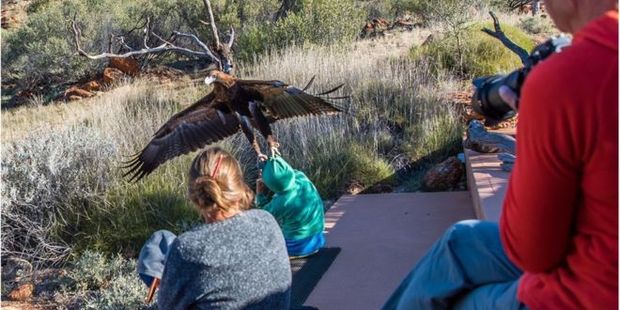 A woman has cuts to her face after she was attacked by an eagle on the Gold Coast.
The woman, in her 30s, was attacked at Currumbin just before 8.40am local time and taken to Gold Coast University Hospital in a stable condition.
Currumbin Wildlife Sanctuary was asked by AAP if the attack took place at the park but they declined to comment.
The wildlife park's website promotes a 'Free Flight Bird Show' featuring two wedge-tailed eagles, Australia's largest bird of prey.
A photo on the website features an eagle in full flight zooming over the heads of spectators.
The wingspan of a wedge-tailed eagle can be as much as 2.8m and their prey includes foxes, rabbits and small kangaroos.
A Queensland Ambulance spokeswoman would not confirm where the incident took place.
It comes just two months after a boy was attacked at an Alice Springs wildlife park by a wedge-tailed eagle, with a picture of the incident making headlines around the world.
- AAP