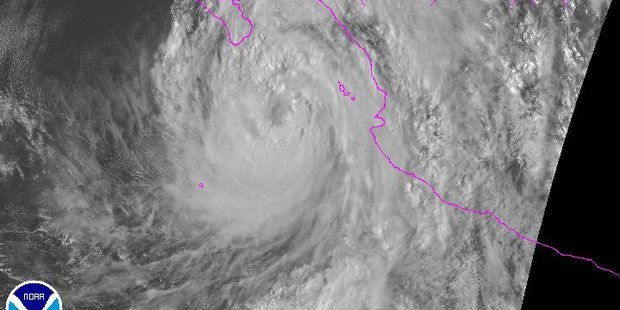 Hurricane Newton soaked Mexico's western Pacific coast and took aim at Baja California's twin resorts of Los Cabos.
Residents and officials braced for a possible direct hit two years after they were slammed by a major storm.
Newton's maximum sustained winds increased to 120 km/h, according to the US National Hurricane Centre in Miami, making it a Category 1 hurricane.
The storm was centered about 350km southeast of Cabo San Lucas and San Jose del Cabo and was moving northwest at 25 km/h on a forecast path that would bring it near or over the area tomorrow.
Some foreign tourists were still walking the streets of Cabo San Lucas even as workers began nailing plywood over the windows of businesses.
Los Cabos Mayor Arturo de la Rosa Escalante said storm shelters were being opened and low-lying areas would be evacuated.
"There is no need for mass buying. There is enough food and fuel for the next 20 days."
Los Cabos police were stationed at shopping centres to guard against the kind of looting that occurred after Hurricane Odile struck the area in 2014 as a Category 3 storm, with 205 km/h winds.
Newton dumped torrential rains that prompted some 100 people to evacuate their homes and damaged residences in Uruapan in the Pacific coast state of Michoacan, the city government reported.
Some roads were blocked by flooding and mudslides in the neighboring state of Guerrero, where some people were evacuated by helicopter. No deaths were reported in either state. A hurricane warning was in effect for Cabo San Lucas and the nearby coastline.
Coastal portions of five Mexican states could see 12 to 25cm of rain, with isolated maximums of 40cm, the hurricane centre said.
Newton was expected to cross over the peninsula and enter the Gulf of California, also known as the Sea of Cortez, on Thursday. The hurricane centre said the storm was likely to continue north into Arizona as a tropical depression later in the week.
-AP