Mother Teresa, the Catholic nun who worked on behalf of the poor in the Indian city of Kolkata for a half-century, has been declared a saint by Pope Francis.
Nineteen years after her death at the age of 87, the title was given to Teresa in a ceremony in St Peter's Square attended by tens of thousands of admirers.
Born Agnes Gonxha Bojaxhiu in 1910, in Skopje, Macedonia, the ethnic Albanian Teresa helped the poor in India for most of her life.
In 1950, she got permission to open her own order in Kolkata, the Missionaries of Charity, with the purpose of caring for those who had no one to look after them.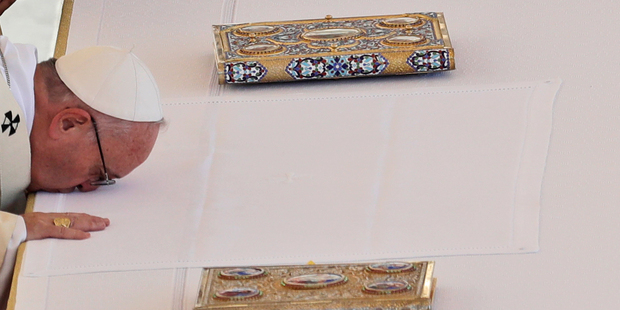 Today the order has 4,500 members and runs homes for the homeless in 133 countries.
She was awarded the Nobel Peace Prize in 1979.
Here are some significant dates in the life of the Catholic Church's newest saint:
• 1910: Agnes Gonxe Bojaxhiu is born on Aug. 26 in Skopje, in what is now Macedonia, the youngest of three children of an Albanian builder.
• 1928: Becomes a novitiate in Ireland of the Loreto order, which ran mission schools in India, and takes the name Sister Teresa.
• 1929: Arrives in Kolkata to teach at St. Mary's High School.
• 1937: Takes final vows and the name Mother Teresa.
• 1946: Riding a train Sept. 10 to the mountain town of Darjeeling, she receives a "call within a call" from Jesus "to serve him among the poorest of the poor."
• 1948: Permitted to leave her order and moves to Kolkata's slums to set up her first school.
• 1950: Missionaries of Charity officially founded on Oct. 7 as a religious congregation.
• 1952: Opens Nirmal Hriday ("Pure Heart"), a home for the dying, followed next year by her first orphanage.
1962: Wins her first prize for her humanitarian work: the Padma Shri award for "distinguished service." Over the years she uses the money from such prizes to found dozens of new homes.
• 1979: Wins the Nobel Peace Prize.
1982: Persuades Israelis and Palestinians to stop shooting long enough to rescue 37 children from a hospital in besieged Beirut.
• 1983: Has a heart attack while in Rome visiting St. John Paul II.
• 1985: Awarded Medal of Freedom, the highest U.S. civilian award.
• 1989: Has a second and nearly fatal attack. Doctors implant pacemaker.
• 1990: Announces her intention to resign and a conclave of sisters is called to choose a successor. In a secret ballot, Mother Teresa is re-elected with only one dissenting vote - her own - and withdraws request to step down.
• 1991: Suffers pneumonia in Tijuana, Mexico, leading to congestive heart failure, and is hospitalized in La Jolla, California.
• 1996: Nov. 16, receives honorary U.S. citizenship.
• 1997: Dies Sept. 5 in Kolkata and is given a state funeral.
• 2003: Beatified before a crowd of 300,000 by St. John Paul II in St. Peter's Square.
• 2015: Is cleared for canonization after Pope Francis declares that the cure of a Brazilian man suffering from brain abscesses was miraculous.
• 2016: Is declared a saint on Sept. 4.