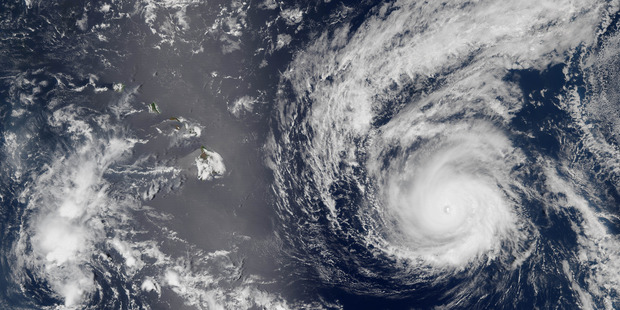 Hawaii's Big Island is under a hurricane warning as category 3 Madeline approaches.
The National Weather Service warned today that hurricane conditions are expected on the Big Island within the next 36 hours.
Forecasters are urging residents and visitors to rush through preparations to protect their lives and property.
The Hawaii Volcanoes National Park is closing some areas. Park officials said that the coastal lava viewing area will close by tomorrow. Some camping areas are closing, but guests staying at Kilauea Military Camp and Volcano House may shelter in place.
It could be the first hurricane to make landfall in the state in decades.
Meteorologist Chevy Chevalier said that Madeline is expected to weaken but likely to remain a hurricane as it passes the state.
The forecaster says Madeline is expected to pass just south of the Big Island. But if the storm's track shifts slightly to the north, it could hit land.
Chevalier says the last hurricane to make landfall in Hawaii was Hurricane Iniki in 1992, which hit Kauai Island.
A second Pacific hurricane called Lester is still far from Hawaii. Lester is expected to be a tropical storm by the time it passes the state.
Big Island resident Mitzi Bettencourt says she has boarded up windows in her brother's ocean-front home. She says she and her neighbours are hoping their roofs stay intact and their houses don't float away.
Neighbours are stocking up on food and water to prepare for power outages.
US President Barack Obama is scheduled to visit Oahu this week. The White House is tracking the weather developments closely, but it doesn't anticipate changing Obama's schedule
Meanwhile, forecasters have issued a hurricane watch for parts of Florida stretching from northwest of Tampa to an area east of Panama City.
The National Hurricane Centre in Miami issued the watch for an area of the Gulf coast from the Anclote River to Indian Pass. An area to the west of Indian pass on the Panhandle is under a tropical storm watch.
The watches are related to a tropical depression churning in the Gulf about 55km west of Key West.
Forecasters say they expect the system to turn to the northeast toward Florida tomorrow. It's also expected to become a tropical storm by then.
- AP