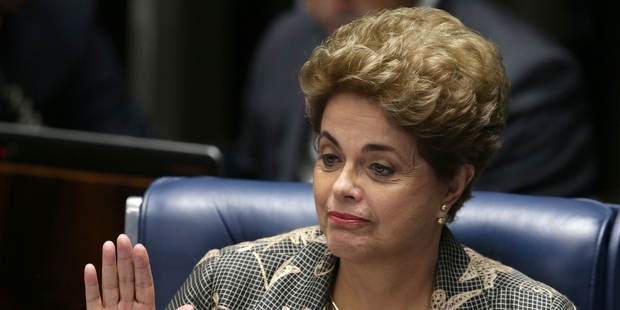 On what could prove to be her last day as Brazil's President, Dilma Rousseff mounted a forceful defence of her time leading Latin America's most populous nation, warning senators that ousting her would hurt a young democracy while defiantly promising to go down fighting in what many see as a losing battle.
Rousseff, who has been suspended since May, delivered a 30-minute address yesterday at her impeachment trial in the Senate, then sat for questioning by senators that ran for more than 14 hours. The Senate was scheduled to begin proceedings for a final vote on whether to remove her permanently today.
Some exchanges were heated, but most were civil and traversed themes that the country has been wrestling with since an impeachment measure was introduced in the lower House of Deputies late last year, polarising the nation.
Opposition senators accused Rousseff of breaking fiscal responsibility laws to hide holes in the federal budget, saying that exacerbated a recession that has led to 10 per cent inflation and daily announcements of layoffs.
She called that nonsense, contending she broke no laws and noting previous presidents used similar accounting measures. She said she was forced to make tough choices on the budget in the face of declining revenues and a refusal by opponents in Congress to work with her.
If anything, she said, the impeachment process had hurt the economy, placing the blame on the Opposition.
Watching the proceedings, Rousseff's mentor and predecessor as President, Luiz Inacio Lula da Silva, who is himself under investigation, said: "She said what she had to say."
Yet many top leaders, including Lula, have acknowledged that Rousseff's chances of surviving the Senate's final vote were slim.
For Rousseff to be removed, at least 54 of the 81 senators need to vote in favour. Counts by media said 52 senators had said they plan on voting for removal, while 18 were opposed and 11 had not said how they would vote. In May, the same body voted 55-22 to impeach and suspend her.
"I need all of you, regardless of political parties," Rousseff said in her closing remarks to senators.
Earlier, Rousseff had sharp words for her vice president, Michel Temer, who took over when she was impeached and suspended and will finish her term if the Senate permanently removes her.
She called him an "usurper", and argued Brazilians would never have elected a man who named a Cabinet of all white men in a country that is more than 50 per cent non-white.
- AP