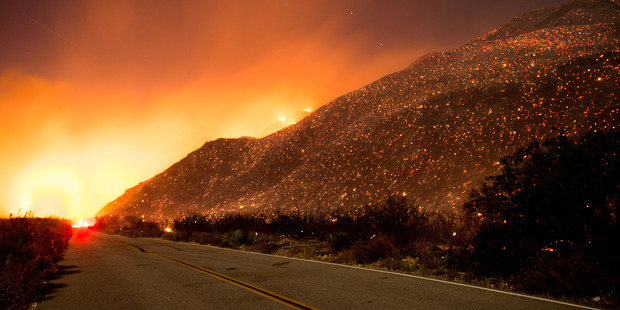 A wildfire with a ferocity never seen before by veteran California firefighters raced up and down canyons, instantly engulfing homes and forcing thousands of people to flee, some running for their lives just ahead of the flames.
By yesterday, a day after it ignited in brush left bone dry by years of drought, the blaze had raged across more than 100sq km, though by the end of the day the first foothold was gained and more than 1500 firefighters had the blaze 4 per cent contained.
Authorities could not immediately say how many homes had been destroyed, but they warned that the number will be large.
"There will be a lot of families that come home to nothing," San Bernardino County fire chief Mark Hartwig said after flying over a fire scene he described as "devastating".
"It hit hard. It hit fast. It hit with an intensity that we hadn't seen before," he said.
No deaths were reported, but cadaver dogs were searching the ruins for anyone who was overrun by the flames.
The cause of the fire wasn't immediately known.
Five years of drought have turned the state's wildlands into a tinder box, with eight fires currently burning from Shasta County in the far north to Camp Pendleton just north of San Diego.
"In my 40 years of fighting fire, I've never seen fire behaviour so extreme," Incident Commander Mike Wakoski said.
The blaze began 100km east of Los Angeles. Authorities assembled a fleet of 10 air tankers, 15 helicopters and an army of 1500 firefighters, many of them just off the lines of a wildfire that burned for 10 days to the east.
At a dawn briefing, half the firefighters raised their hands when asked how many had come from one of the other infernos burning across California.
In all, 10,000 firefighters are fighting the eight ongoing blazes.
One major fire, north of San Francisco, was fading, and about 4000 people in the town of Clearlake were allowed to return home.
- AP