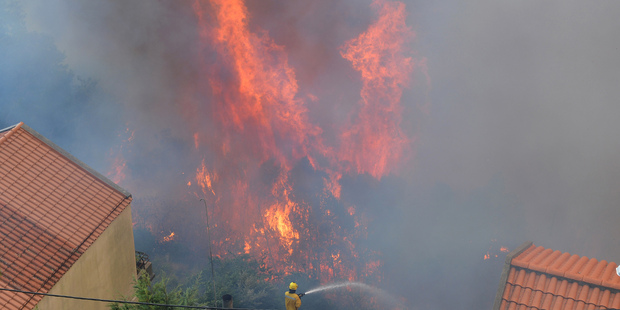 Three elderly people died in their burned homes in Portugal's Madeira Islands as a wildfire spread into the capital, Funchal, authorities said today.
"Unhappily, we have three deaths to report " elderly people caught by the fire ... in two houses," the head of Madeira's regional government, Miguel Albuquerque, told a news conference broadcast by local media.
He said the victims died in the early hours of Wednesday as the wildfire swept into the coastal city in the dark, causing panic. He said two other people were seriously hurt, one person is missing and more than 300 people required medical treatment for smoke inhalation and minor burns.
The blaze, fueled by hot weather and strong winds, forced the evacuation of around 1,000 local people and tourists in the islands off northwestern Africa. Several dozen houses and a five-star hotel burned down.
Tourism is the mainstay of Madeira's economy. The high winds in recent days have also forced the cancellation of around two dozen flights.
The evacuated people were taken to an army barracks, a soccer stadium and a civic center on the island.
The blaze broke out on Monday, and firefighters said the island's steep hills and dense woodland made it hard to reach the flames.
Albuquerque said officials suspect the fire was started deliberately, and police have made two arrests.
He said reinforcements, including firefighters and doctors, are due to arrive later Wednesday from the Portuguese mainland. The weather forecast is for cooler temperatures and a drop in the wind speed, which authorities hope will help extinguish the fire.
Fire services are at full stretch on the mainland, too, due to scores of wildfires that have raged since Saturday.
- AP