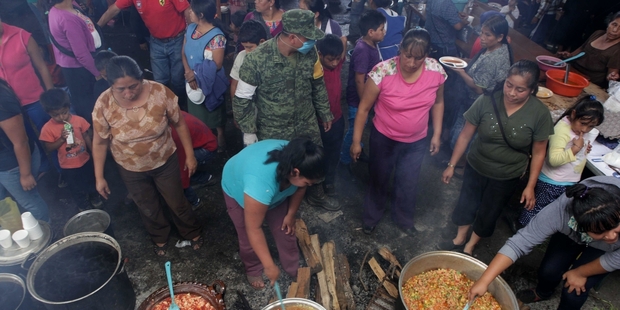 Women in Papatlazolco prepare meals for survivors and rescue teams after Hurricane Earl triggered landslides that killed 45 people in Veracruz and Puebla states over the weekend.
Among the casualties of Earl were at least 32 people who died in multiple mudslides in the mountainous north of Puebla, state Interior Secretary Diodoro Carrasco said. He said rain amounts equivalent to an entire month of normal precipitation fell in one night in some areas.
Meanwhile, authorities evacuated people from low-lying areas around the resort city Cabo San Lucas as a slightly weakened Tropical Storm Javier churned near the tip of Mexico's Baja California Peninsula.
Slowing its forward movement to 7km/h, Javier promised an extended battering with wind and rain as it heads northward brushing the Pacific shore of southern Baja.
The storm was centred about 50km south-southeast of Cabo San Lucas yesterday, with maximum sustained winds of 95km/h, down from a peak of 100km/h, the US National Hurricane Centre said.
It said a weakening trend should begin today.
Authorities in Cabo San Lucas set up 10 storm shelters, mostly at local schools, and moved families from homes in low-lying areas near streams. The resort was closed to navigation, and some owners of smaller fishing boats could be seen pulling them onto shore and hauling them away on trailers.
- AP