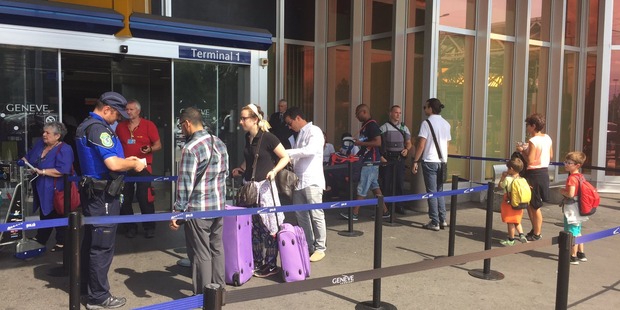 A major security scare at Geneva Airport yesterday was caused by a jilted wife who called in a false bomb threat in an attempt to stop her husband leaving from the airport.
A spokesman for the Geneva prosecutor's office, Henri Della Casa, said an anonymous caller to Swiss Customs had made the false threat early yesterday, claiming a person carrying a bomb was in the French sector of the airport.
The call set in motion a security sweep that saw police armed with sub-machine guns searching vehicles and checking identity documents in and around the airport, also warning travellers to expect delays.
The security measures are linked to 'information received' that is being verified, confirm Geneva police https://t.co/kixxpddmKf

— Daily Mail Online (@MailOnline) July 27, 2016
However, Della Casa said Geneva police and French authorities rapidly traced the woman's telephone call to a nearby south-eastern France town.
When French police raided a property in the alpine town of Annecy 44km away, they confronted a woman who admitted making the hoax telephone call in a bid to stop her husband leaving from the airport.
Della Casa said the woman has been issued with a warning in connection with making threats alarming the public under Article 258 of Switzerland's criminal code, with French authorities opening a criminal case against her. Swiss and French judicial authorities will co-ordinate any legal proceedings against her. He said the prosecution service would make no further comment about the matter.
RT_com: Jilted wife made #Geneva hoax #bomb threat to stop husband leaving - Swiss prosecutors
... pic.twitter.com/fQUNVaQeth

— Capt. David Bychkov (@david_bychkov) July 27, 2016
The police operation is estimated to have cost Geneva "several tens of thousands of francs", Pierre Maudet, a security spokesman for the cantonal government, told Swiss public television RTS.
UPDATE Author of anonymous phone call at Geneva airport admit hoax. More on https://t.co/Wa5catpwVu pic.twitter.com/x1WwQFd7WT

— AIRLIVE (@airlivenet) July 27, 2016
The Swiss national carrier Swissair also announced today that it had cancelled all flights to Istanbul for the upcoming winter season.
It blamed the move on a drop in passenger numbers following terrorist attacks in recent months and the attempted military coup two weeks ago.
A spokeswoman for the carrier, Meike Fuhlrott, told the Swissinfo.ch website that the new flight plan comes into effect on October 30.
Fuhlrott said the carrier would continue its twice-weekly shared service with Edelweiss Air to Antalya on the Mediterranean Sea. The airline plans to reintroduce flights to Istanbul in summer 2017 after re-assessing market conditions.