• French officials say more than 84 dead in Nice attack.
• More than 100 people injured, 18 critically, after truck ploughs into crowd celebrating Bastille Day.
• Man behind wheel of truck fired shots into crowd after crash.
• Driver shot dead by police.
• Man responsible believed to be 31-year-old Mohamed Lahouaiej Bouhlel.
Dawn has revealed pools of dried blood, smashed children's strollers, an uneaten baguette and other debris strewn about the promenade, after a terror attack hit the streets of Nice.
The gunman, believed to be 31-year-old Mohamed Lahouaiej Bouhlel smashed a truck into a crowd of revellers celebrating Bastille Day in the French resort of Nice, killing at least 84 people in what President Francois Hollande on Friday declared a "terrorist" attack.
Are you a Kiwi in Nice? Do you know more? Email the Herald
What appeared to be bodies covered in blankets are today visible between the gaps in security screens.
Laurence Marie from the Lenval paediatric hospital has told Reuters news agency that "many" children were undergoing serious operations there.
Police shot the driver dead after he barrelled the truck two kilometres through a crowd that had been enjoying a fireworks display for France's national day.
The palm-lined Promenade des Anglais was left strewn with bodies as hundreds fled in terror.
Authorities said they found identity papers belonging to a 31-year-old French-Tunisian citizen in the 19-tonne truck, and that the driver had fired a gun several times before he was shot dead by police.
The attack was of an "undeniable terrorist nature," a sombre Hollande said in a televised national address, confirming that several children were among the dead.
Interior Minister Bernard Cazeneuve told reporters on the scene that scores were left injured including 18 in "critical condition".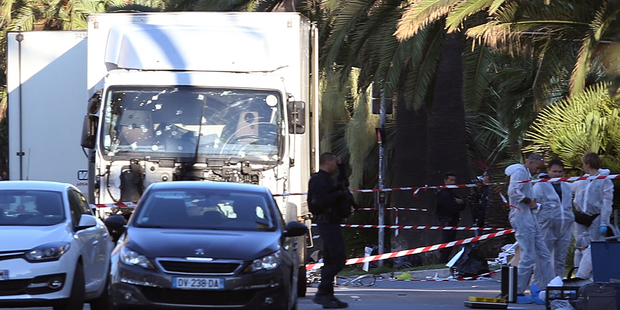 Bastille Day is a celebration of everything France holds dear - its secular republic and the values of "Liberte, Egalite, Fraternite" (Freedom, Equality, Fraternity).
Earlier, onlookers had enjoyed a day of military pomp and ceremony in Paris - where armed forces, tanks and fighter jets swooped down the Champs Elysees avenue - and spectacular firework displays.
"Families who were sharing a moment of leisure were targeted. It was a symbolic day in a symbolic place. That... motivated the attack," said regional lawmaker Eric Ciotti.
"Holding cold hands"
In a video viewed over 2,500 times on Facebook, a trembling Tarubi Wahid Mosta told of the horror on the promenade, where he took photos of an abandoned doll and pushchair and came home with a victim's Yorkshire terrier.
"I almost stepped on a corpse, it was horrible. It looked like a battlefield," he said.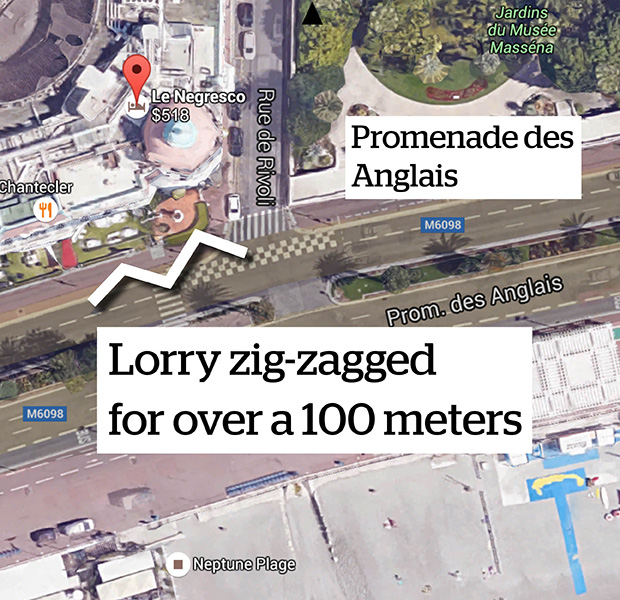 In a series of posts he described the sense of helplessness faced with the carnage.
"All these bodies and their families ... they spent hours on the ground holding the cold hands of bodies dismembered by the truck. You can't even speak to them or comfort them."
As the sun rose over the picturesque bay, forensic police swarmed the promenade.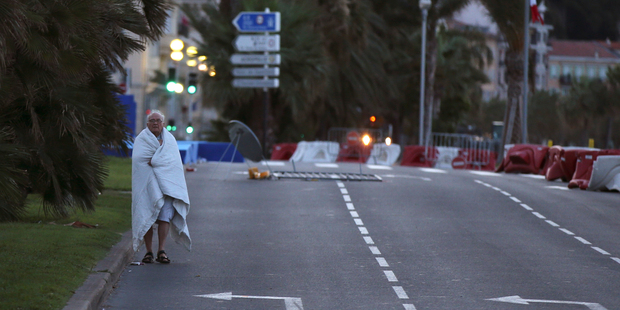 The truck was riddled with bullet holes and badly damaged, with burst tyres.
Robert Holloway, an AFP reporter who witnessed the white truck driving at speed into the crowd, described scenes of "absolute chaos".
"We saw people hit and bits of debris flying around. I had to protect my face from flying debris," he said.
On Twitter, there were desperate pleas from those looking for news of loved ones.
Pictures of a young girl with braces or a teenager pulling a funny face were among dozens posted.
A country in mourning
France has declared three days of national mourning from Saturday, the prime minister said.
Manuel Valls said flags will be flown at half-mast, and a law extending increased powers for the police will be put before parliament next week, he said.
"Times have changed, and France is going to have to live with terrorism, and we must face this together and show our collective sang-froid," he said.
"France is a great country and a great democracy and we will not allow ourselves to be destabilised," he added.
"We want to bring the French nation together. The only dignified response (to the attack) is for France to stick with the spirit of July 14, a France that is united around its values," he said.
"Horrific terrorist attack"
The attack is the third major strike against France in less than 18 months and prosecutors said anti-terrorist investigators would handle the probe.
It comes eight months after Islamic State attacks on Paris nightspots left 130 people dead, dealing a hard blow to tourism in one of the world's top destinations.
US President Barack Obama condemned "what appears to be a horrific terrorist attack", although no group had yet claimed responsibility.
Hollande announced he would extend France's state of emergency for three months in the wake of this latest attack and "step up" the government's action against jihadists in Syria and Iraq.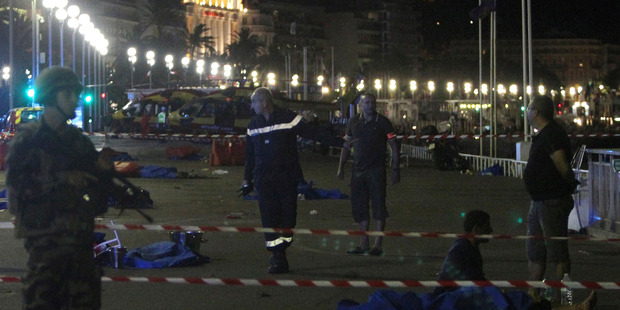 "We will continue striking those who attack us on our own soil," he said, in reference to the Islamic State group.
He also called up army reservists to bolster security services that are stretched to the limit.
France has been under a state of emergency ever since the November 13 Paris carnage, which came after 17 were killed in another attack in January at various sites including the offices of the Charlie Hebdo magazine and a Jewish supermarket.
Isis has repeatedly singled out France as a prime target for its military action against the group in Iraq and Syria, and hundreds of jihadists have left France to go and fight in its ranks.
"He crushed a lot of people"
The Mediterranean city of Nice, with its pebble beaches and clear blue water, has been a magnet for sun-seekers and the jet-set since the 19th century.
A witness named Nader told BFM television he had seen the whole attack from start to finish, and had initially thought the driver had "lost control".
"He stopped just in front of me after he (crushed) a lot of people. I saw a guy in the street, we were trying to speak to the driver to get him to stop.
"He looked nervous. There was a girl under the car, he smashed her. The guy next to me pulled her out," he said in broken English.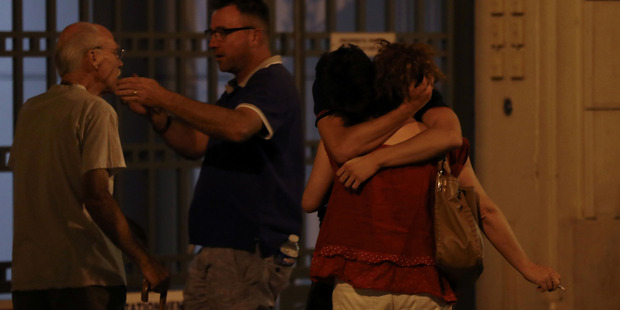 Nader said he saw the driver pull out a gun and start shooting at police.
"They killed him and his head was out the window."
A source close to the investigation said an "inactive" grenade was found inside the truck, as well as "several fake rifles".
Over the past week, France had been breathing a sigh of relief after successfully hosting the month-long Euro 2016 football championship, which passed off without incident despite fears of attacks.
The tournament brought an all-too-brief burst of joy to a gloomy France, bogged down after the two attacks in 2015, violent anti-government protests, strikes and floods.
European Council President Donald Tusk said: "It's a sad day for France, for Europe, for all of us."
"The subjects of the attack were people celebrating liberty, equality and fraternity."
Kiwis in Nice
A Ministry of Foreign Affairs and Trade spokesman said 882 New Zealanders are registered as being in France.
MFat's Safe Travel website advises New Zealanders to stay away from the area, and follow the instructions of authorities.
It advises:
• Contact your family in New Zealand to advise them that you are safe
• New Zealanders who require consular assistance are advised to contact the New Zealand Embassy in Paris on 01 45 01 43 43.
• If you have concerns about a New Zealand citizen family member in France, please try and make direct contact in the first instance.
• If you have ongoing concerns, please contact the Ministry of Foreign Affairs and Trade on 04 439 8000 (if calling from within New Zealand) or +64 4 439 8000 (if calling from outside New Zealand).
• Please pass this message to any New Zealanders you know of in Nice who may not have registered their details with us.
https://www.safetravel.govt.nz/news/france-security-incident-nice
- AFP with additional reporting from NZ Herald