Boris Johnson, the top Brexit campaigner and former London Mayor, has made a sensational comeback after two weeks in the political wilderness to become Foreign Secretary in new Prime Minister Theresa May's Government.
Johnson is one of Britain's most recognisable politicians with his blond mop-top hair, bumbling manner and tendency to drift into Latin during speeches.
He is also one of the most controversial after he drove the campaign for Britain to leave the EU and then spectacularly ducked out of entering the race to succeed Remain-campaigning Prime Minister David Cameron - a contest Johnson had been expected to win.
Johnson, one of a coterie of Conservative politicians who attended Britain's elite Eton boarding school, was the figurehead of the "Leave" campaign.
The job of Foreign Secretary is the first in government for Johnson, whose tenure as London Mayor from 2008 until May this year included overseeing the 2012 Olympic Games.
The leadership ambitions of the former Brussels-based journalist had been the worst-kept secret in British politics, ever since his victory in London's mayoral race eight years ago sent his profile skyrocketing.
At the time, he was the most senior Conservative in elected office.
Many within the centre-right party and the country believe prime ministerial ambitions, rather than ideology, drove him to rebel against Cameron by campaigning for a divorce from the EU.
But after securing a victory which forced Cameron to quit, Johnson's close Brexit ally Michael Gove decided to stand for the leadership himself.
Gove said Johnson was incapable of doing the job - forcing Boris to step aside from running.
The decision prompted a furious reaction from former deputy prime minister Michael Heseltine who described Johnson, a huge admirer of Winston Churchill, as "a general who marches his army to the sound of the guns and the moment he sees the battleground he abandons it".
Known to millions simply as Boris, he was born in New York in 1964 as Alexander Boris de Pfeffel Johnson into a competitive, high-achieving family.
His father Stanley was a Conservative member of the European Parliament; one brother, Jo, was a minister in Cameron's Government and his sister Rachel is a journalist and writer.
All three gave their support to the "Remain" camp.
Rachel Johnson told her brother's biographer that, as a child, he wanted to be "king of the world" when he grew up.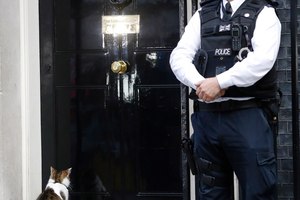 Johnson won a scholarship to Eton, which Cameron also attended two years below him.
The pair were then contemporaries at Oxford University and both members of the Bullingdon Club - an elite, all-male dining society known for its rowdy behaviour.
After graduating in classics, Johnson became a journalist, working at the Times - from which he was sacked for fabricating quotes - and the Daily Telegraph newspapers, including as Brussels correspondent.
He became an MP for the then Opposition Conservatives in 2001 and was later appointed as the party's arts spokesman before being sacked over accusations of lying about an alleged extra-marital affair.
After leaving the London mayoralty in May he spearheaded the Leave campaign.
Despite constant speculation, Johnson had always batted away rumours about his political ambitions, once saying that his chances of being prime minister were on a par with "my being reincarnated as an olive".

KEY APPOINTMENTS TO NEW BRITISH CABINET
CHANCELLOR OF THE EXCHEQUER - PHILIP HAMMOND
Foreign Secretary since 2014, Hammond, 60, has previously been Transport Secretary and was Defence Secretary for three years from 2011. Hammond will have to manage an economy that risks sliding into recession after last month's vote to leave the EU, and set new budget goals after his predecessor George Osborne abandoned his aim to run a budget surplus by 2020.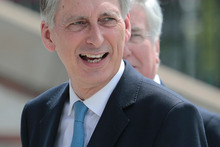 FOREIGN SECRETARY - BORIS JOHNSON
The most surprising of May's appointments. The flamboyant former Mayor of London was a leading figure in the victorious Leave campaign in Britain's European Union membership referendum last month but has never been a byword for diplomacy. Johnson, 52, who has not previously held a Cabinet post, will have to address questions about the country's role in the world after its exit from the EU and shape British policy towards key areas like Syria, Iran and Russia. The United States said it was looking forward to working with him.
HOME SECRETARY - AMBER RUDD
Rudd, 52, a former British Energy Minister, will play a key role in the country's approach to immigration, the issue which is widely believed to have swayed the EU vote to Leave. Rudd, who succeeds May in charge of the Home Office, became an MP in 2010 and served as parliamentary private secretary to former chancellor George Osborne from 2012 to 2013. She later joined the Department for Energy and Climate Change, where she was promoted to minister in 2015. She was a high-profile supporter of the Remain camp in the referendum.
CHIEF BREXIT NEGOTIATOR - DAVID DAVIS
Davis, a senior Conservative MP who was beaten by former Prime Minister David Cameron in the party's 2005 leadership election contest, was appointed to the new role of Secretary of State for Exiting the European Union. Davis, 67, a strong supporter of Brexit, has said Britain should take its time before formally starting the divorce process by triggering Article 50 of the EU's Lisbon Treaty.
INTERNATIONAL TRADE - LIAM FOX
Fox will be in charge of forging new international trade deals after Britain voted to leave the European Union. The 54-year-old has previously held a string of senior positions in government. He was Defence Secretary from 2010 to 2011 and is a former minister in the foreign office.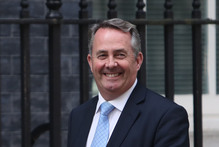 DEFENCE SECRETARY - MICHAEL FALLON
Scotsman Fallon, 64, has been Defence Minister since July 2014 and has forged a reputation as a safe pair of hands. He is a former Vice-Chairman of the ruling Conservative Party. He has also served in the business and energy departments and on the Treasury select committee.
- AFP, Reuters, AAP