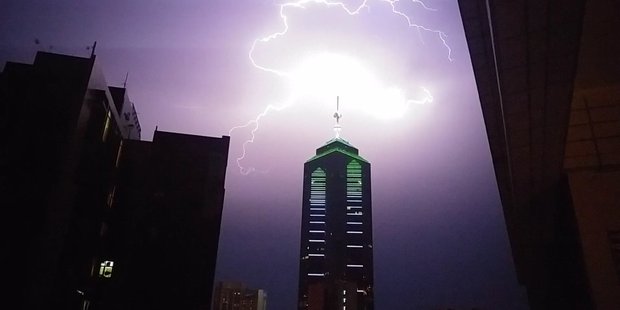 Meteorologists were shaking their heads at the weekend after Hong Kong was hit by thousands of lightning strikes in an epic 12-hour thunder storm.
Over 10,000 cloud-to-ground lightning strikes were recorded by the Hong Kong Observatory during a 12-hour thunderstorm on Saturday and Sunday, following the city's hottest day since 1968, with temperatures soaring past 37C.
The city also saw over 3000 cloud-to-cloud lightning strikes.
The Observatory issued a thunderstorm warning at 6.45pm on Saturday, urging members of the public to get off high ground and seek shelter.
The Observatory's Tam Yee-ting told the South China Morning Post the number of strikes was "very high" for a summer storm, and surpassed the July 2005 24-hour record of 9966 strikes. However, because the strikes spanned over two days, they might not go down in the record books.
Tam said the high temperatures boosted convection, creating unstable air in the upper atmosphere, fuelling the thunderstorm.
Tom Grundy, editor of the independent Hong Kong Free Press, tweeted the exact point when the storm overtook 10,00 strikes, posting dramatic photographs of the lightning show sent in by members of the public.
Exactly 10,000 lightning strikes in a 24-hour period. pic.twitter.com/lkgBLor94R

— Tom Grundy (@tomgrundy) July 10, 2016
By today the tally since the start of the storm was above 1140 strikes, said the Observatory, which is still maintaining a thunderstorm warning.
Film-maker Martin Williams posted a clip to YouTube on Sunday, showing the storm from Cheung Chau, with Hong Kong's lights in the distance.
Grundy later tweeted another batch of dramatic shots of the lightning show.
More surreal shots of Hong Kong's supernatural lightning show https://t.co/OOAVbnFsiw Video: James Kwok.https://t.co/1u3kOipj3U

— Hong Kong Free Press (@HongKongFP) July 10, 2016
Most strikes hit the New Territories and Lantau Island, continuing well into Sunday.
Part two: https://t.co/YZfNF9ZXYU More surreal shots of Hong Kong's supernatural lightning show. @hongkongfp pic.twitter.com/geXJvK2B8l

— Tom Grundy (@tomgrundy) July 10, 2016
Hong Kong PR manager Greg Cole posted a picture on Twitter showing the storm lighting up the city centre.
Lightning storm lightening up The Centre in Hong Kong pic.twitter.com/PGPvQxn7pu

— Greg Cole (@Copeau1) July 9, 2016